After using red swiss chard in this
roti
and loving it so much, my mind was racing with ideas of other dishes that I would like to try with chard. This time I decided to try chard in a kootu. Kootu refers to a south Indian curry that is made with a lentil coconut gravy and is served with plain steamed rice. Kootu ranks pretty high on my list of favored curries, simply because of its taste and the fact that it combines lentils and veggies in one dish and is a quick way to get a little of both.
I read somewhere that chard stems are edible too, so I decided to use it in this curry along with the leaves. I am so glad I did, the chard stems retained a very slight crunch even after cooking and added an interesting dimension and some color to the curry. This chard kootu turned out to be delicious and has now moved to the top of my favorite curry list, I cannot wait to make it again.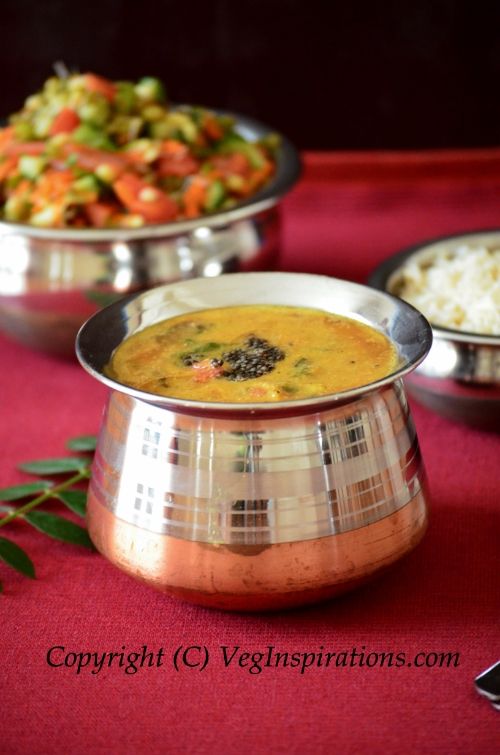 Click here for a printable view of this recipe
Ingredients and Method to make Swiss Chard kootu
1 cup split pigeon peas (tur dhal/ tuvaram parappu) soaked in water for 30 minutes and cooked until soft
1/2 bunch of chard leaves + stem (yielded approximately 4 cups of cut leaves +stem) (see notes)
Salt to taste
1/2 cup fresh or frozen coconut (if frozen thaw to room temperature)
1 1/2 tsp split black gram lentil (udad dhal)
3 dry red chilies (or according to taste)
3/4 tsp cumin seeds (jeera/ jeeragam)
1/2 tsp oil
Seasoning
1 tsp oil (preferably coconut oil)
3/4 tsp mustard seeds (rai/kadagu)
1/8 tsp asafoetida powder (hing/ perungayam) (optional)
1 dry red chili broken into small pieces (optional or according to taste)
In 1/2 tsp of oil roast 1 1/2 tsp udad dhal until reddish and aromatic. Remove from heat, cool and grind along with coconut, cumin seeds and dry red chilies, adding water as required to form a smooth paste, keep it aside.
Cook the
soaked
pigeon peas (tur dhal) until soft and mushy. I used the microwave for it but
it can be done
in the pressure cooker or stove top.Mash the cooked lentils lightly adding a little water and keep aside.
If you have used the stove top or pressure cooker for cooking the lentils, then in a heavy bottomed pan, add cut chard leaves/ stem and a little water and allow it to cook. Once cooked, add the mashed lentils and the coconut paste, mix well. Add water as required to achieve required consistency, salt to taste and allow to simmer for a few minutes. (see notes)
Finally heat a little oil in a small pan, add mustard seeds to it. When the seeds begin to splutter add asafoetida powder and dry red chili and stir a couple of times. Pour the entire oil + seasoning mixture on the simmering lentil and chard and mix well.
The copyright of this content belongs to
Veginspirations.com
Remove from heat and serve hot with plain steamed rice or
rotis/phulkas
(Indian flat bread)
Notes
I cooked the lentils in the microwave, so once the lentils were cooked and mashed, I added the chard to it and placed it back in the microwave until the chard got cooked. Then I added the coconut paste and allowed to cook for a couple minutes more and finally proceeded to season it.
Cut the ends off the chard stem, then proceed to cut the stem and leaves into small pieces
Suggested Variation:
In a pinch if you do not have the black gram lentil, you can skip it entirely and grind just coconut, cumin and whole red chilies and proceed with the rest of the recipe. This subtly alters the taste, but this version of the curry tastes pretty good too :)