There are days when I am running late, have yet to start on dinner and have no clue what I am going to make for it. On such days, I wish that I could wave some type of magic wand and find dinner ready. I know....it is completely wishful thinking :-) Anyway the reason I mentioned this is because last week I had a few days like this, when I was running late and had to come up with something simple and quick for dinner.
This oat potato cutlet was the result of my rushed preparations. I made this cutlet to use as a sandwich stuffing in a
sandwich much like this one
, and it tasted awesome in the sandwich. It also tasted very good on its own too. You cannot make out that there is oatmeal in this cutlet making it ideal for those of you who want to sneak in oatmeal to picky eaters. Hmm......I never knew rushing around in the kitchen to get dinner ready could produce such yum results, maybe I should get late more often :-)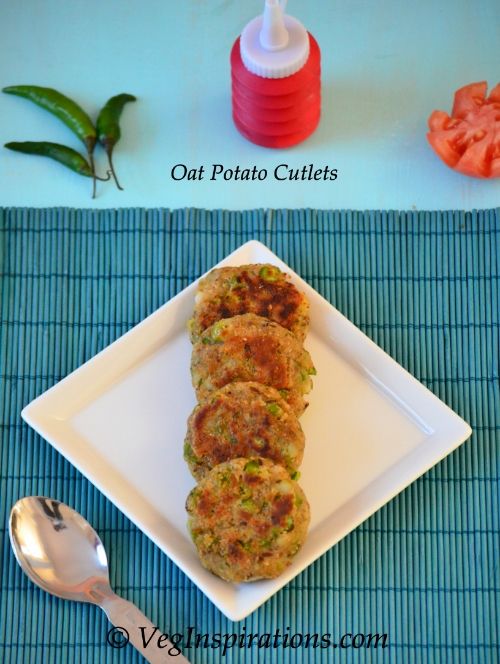 Click here for a printable view of this recipe
Ingredients and Method to make Oat Potato Cutlets
5 medium white potatoes (cooked until soft) or 7 slightly smaller potatoes
1/2 cup rolled oats
2 cups frozen peas (thawed to room temperature)
1 tbsp oil
3/4 tsp cumin seeds (jeera/ jeeragam)
4 Thai or Indian variety green chilies cut very fine (or to taste) (hara mirch/ pachai molagai)
1/2 tsp garam masala (or any other curry powder)You can find my recipe for garam masala
here
1/2 tsp red chili powder (or to taste) (optional)
salt to taste
Dry roast and powder
1/2 tsp cumin seeds
3/4 tsp coriander seeds
a little extra oil to shallow fry the cutlets
Cook the potatoes, cool to room temperature, peel the skin, mash roughly and keep aside.
Dry roast
rolled oats, cool to room temperature and grind to a fine powder. Keep this powder aside.
Dry roast cumin seeds and coriander seeds until aromatic, cool and grind to a fine powder. Keep this powder aside.
In a heavy bottomed pan heat oil, add cumin seeds to it. When the seeds begin to sizzle add green chilies, stir a couple of times, then quickly add green peas. Stir a few times, cover the pan with a lid and allow the green peas to cook until soft.
The copyright of this content belongs to
Veginspirations.com
Add garam masala, red chili powder and salt to taste and mix well.
Add the mashed potatoes and mix thoroughly. Mash this mixture a little with a potato masher. Finally add powdered oats and mix well. At this point the mixture will get a bit thick and stiff. Cool the mixture to room temperature or until you can comfortably hold it in your hand. Shape into cutlets, heat a griddle/tawa/flat pan and place the cutlet on it. Add a few drops of oil and allow the lower side to cook until golden brown, flip over and cook the other side to golden brown as well.
Remove and serve hot with ketchup or any other sauce or use the cutlet as a sandwich stuffing.
Notes
I used this cutlet as a sandwich stuffing in a sandwich similar to
this one
, only without the chutney. Tasted awesome, in case you plan to make this as an appetizer or you plan to use spicy chutney in your sandwich, you can scale down the spice levels slightly if you want. In a sandwich without chutney, this level of spice worked out perfectly.