Recently when I was chatting with my mother in law, the conversation veered to...........where else.........food, of course. In the course of the conversation she mentioned that she made thavala adai, a kind of adai that I am yet to make or even taste. While sharing the recipe, she mentioned sprouted mung bean as one of the ingredients. Since the list of ingredients for thavala adai seemed a little too long, I decided to put it off for a different time, when I have everything at hand and a little more patience to try it too.
In the meanwhile the idea of using mung sprouts in adai got stuck in my head and I decided to give it a try as a variation to the
traditional adai
. I am so glad I tried this, the adai turned out beautifully, mung sprouts added a subtly different taste and texture from the traditional adai and I loved how it tasted. I am also so glad to find one more way to include sprouts in our diet. If you like adai, give this one a try....you will definitely enjoy it:-)
While on the topic of adai, one quick update before moving on to the recipe. I finally managed to update the pictures on this
oat barley adai
and
this traditional adai
. Have a quick peek if you have a minute....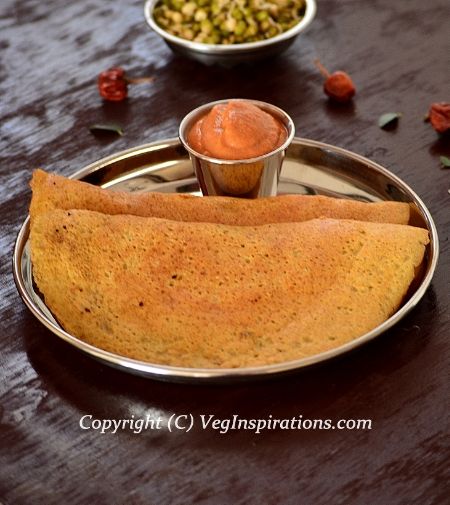 Click here for a printable view of this recipe
Ingredients and Method to make Sprouted Mung bean adai
2 cups brown rice ( I used brown basmati) ( can be substituted with white rice too)
1/2 cup split pigeon peas (tur dhal/ tuvaram parappu)
1/2 cup split yellow chick pea lentil (chana dhal/ kadalai parappu)
3/4 cup sprouted mung bean (Whole moong/green gram/pachai payaru) ( to learn how to sprout mung bean read
this post
)
5 dry red chilies (or to taste)
5 Thai or Indian variety green chilies (or to taste)
1 inch piece of ginger
1 stalk of curry leaves (optional)
salt to taste
1/4 tsp asafoetida powder (hing/ perungayam)
a little sesame oil to shallow fry adai
To learn how to soak and make mung bean sprouts read
this post
Soak
brown rice, split pigeon peas and chick pea lentil for 3 hours in sufficient water in a large bowl.
Add sprouted mung bean to the above grains and allow to soak for additional 30 minutes.
Grind the grains along with ginger, green chilies, red chilies and curry leaves if using, in batches adding water as required. The grains need only to be of a coarse texture so you do not need to grind it smooth.The batter needs to be on the thicker side, not runny so do not use water too liberally when grinding the batter.
The copyright of this content belongs to
Veginspirations.com
Add salt to taste, asafoetida powder to the batter and mix well. This batter can be used immediately or can be refrigerated and used within a few days (not too long say 3 to 4 days) to make adai (crepe).
When making adai, heat a flat pan/ griddle/ tawa on medium heat. When hot, pour a little batter on the center of the pan/ tawa and quickly spread it into a thin circle. Pour a few drops of sesame oil around the circumference of the adai. When the lower side is golden brown, flip over and cook the other side until it has a few brownish/golden spots on it.
Remove and serve hot with either
chutney
,
molaga podi
, aviyal or even a piece of jaggery (vellam)
Yield will depend on the size and thickness of each adai.