Every time I read about the health benefits of flax, I feel a little guilty that I do not include as much flax in our diet as I would like to..... don't get me wrong, it's not like I never include flax, I manage to sneak it into our diet as often as a couple of times a week. But since flax is so healthy, I wouldn't mind if I managed to sneak it into our diet everyday :-)
I think my uncle N has the right idea on this, he just eats a couple of spoons of roasted flax each day. Neat ! this way he does not have to worry about sneaking it into the diet every time :-) Only problem for me, I like my flax disguised in my food and am not quite keen to eat it just by itself. So my solution is to come up with everyday recipes where I can sneak in flax.
In addition to using flax regularly in my bakes and rotis (Indian flatbread), I have also begun to use flax in instant dosais (savory Indian crepes). First I used it in this rava dosai and loved how the flax enhanced the taste and nutrition of it. This time I decided to make a dosai with a combination of flax and oats...... yes I have to admit oats is my other favorite healthy ingredient, so the idea of combining the two was irresistible :-)
I seasoned the dosai with some cumin, mustard, curry leaves and green chilies for some added flavor. The dosai turned out to be very tender and light. Since the rice flour added a touch of crispiness too, I felt this dosai had the perfect balance of softness and crispiness. I have made this a few times since the first and it makes a perfect breakfast/ or tiffin or even a light dinner.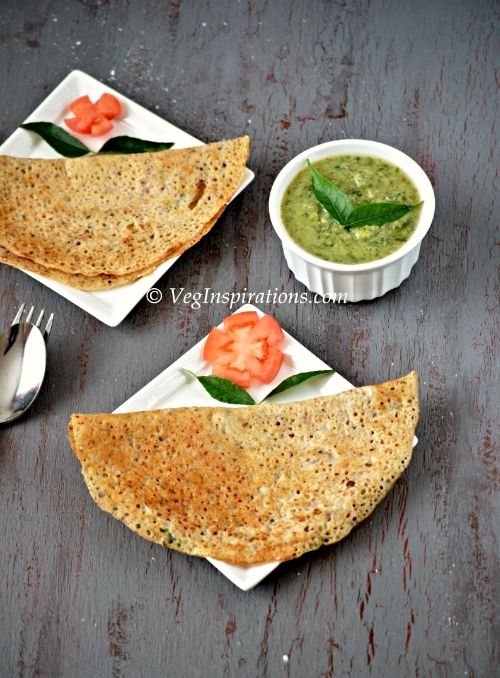 Click here for a printable view of this recipe
Ingredients and Method to make Oat flax dosai
2 cups oat flour ( I powdered rolled oats in my spice grinder to give me oat flour)
3/4 cup rice flour (chawal ka atta/ arisi maavu)
1/4 cup flax seed meal (flax powder/ alsi/ ali virai)
salt to taste
approx 3 1/2 cups water
4 to 5 tbsp grated fresh or frozen coconut (if using frozen, thaw to room temperature)
Seasoning
5 Thai or Indian variety green chilies cut very fine(or to taste)
1 to 2 tbsp coconut oil
3/4 tsp mustard seeds
7 to 8 curry leaves cut fine
1/2 tsp cumin seeds
a little sesame oil to shallow fry the dosai
If you have no ready made oat flour, just powder rolled oats in a blender/ mixer/ spice grinder.
In a large bowl add oat flour, rice flour, flax seed meal and salt to taste and mix well. Add water slowly a little at a time and mix well to form a not too thick, not too thin batter.
Heat oil in a small pan, add mustard seeds. When the seeds begin to splutter add cumin seeds, when cumin begins to sizzle add green chilies and curry leaves and mix once or twice. Pour entire seasoning on the batter and mix well. Finally add grated coconut directly to the batter and mix again. Allow this mixture to "sit" for 20 mins to 30 mins.
Heat a flat pan/ griddle/ tawa. When hot pour a little batter on the center and quickly make a thin circle. Add a few drops of sesame oil on the circumference of the dosai. When the lower side is cooked to an even golden color, flip over and cook the other side until it gets golden brown spots.
Remove and serve hot with sambar/ chutney of choice/ molaga podi like this one or this one. Proceed with the rest of the batter in the same manner and store unused batter in the refrigerator and use within a few days.
The copyright of this content belongs to
Veginspirations.com
Notes
If you use the batter a day or two after you first made it, it may thicken a little more, you might need to add a little more water to get the right consistency before using again.
Suggested variation:
Sprinkle a little finely chopped onion pieces on the side facing upwards. Flip over and press down a little and cook until onion begins to get a few brown spots.
Other dosa varieties with oats in this space......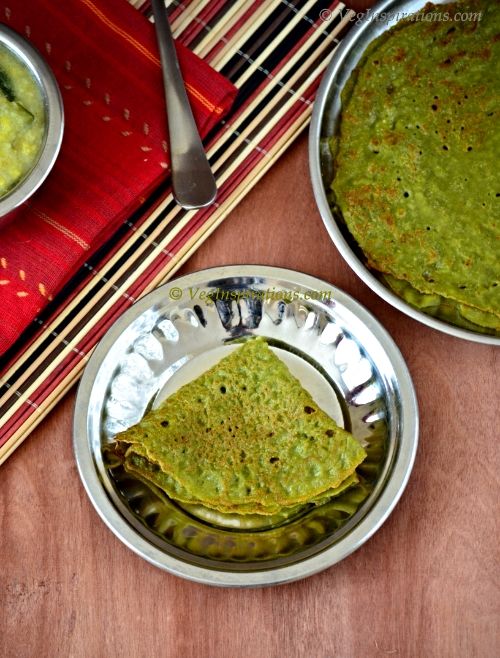 Keerai Oat Dosai ~ Palak oat dosa ~ Savory Indian crepe with spinach and oats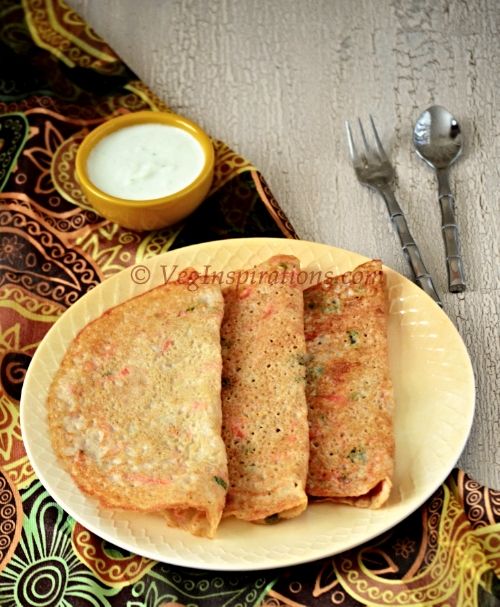 Mixed Vegetable Oat Dosai ~ Savory Indian crepe with vegetables and oats

Instant Ragi Oats Dosai ~ Nachani dosa ~ Savory Finger millet and oats crepe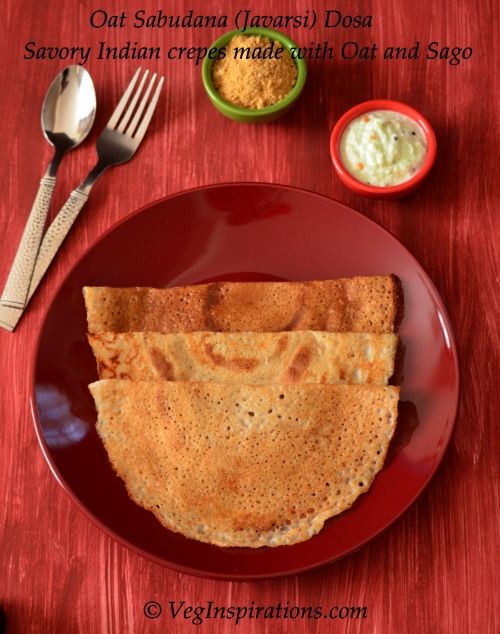 Javarsi Oats Dosai ~ Sabudana oat dosa ~ Savory Oat and sago crepe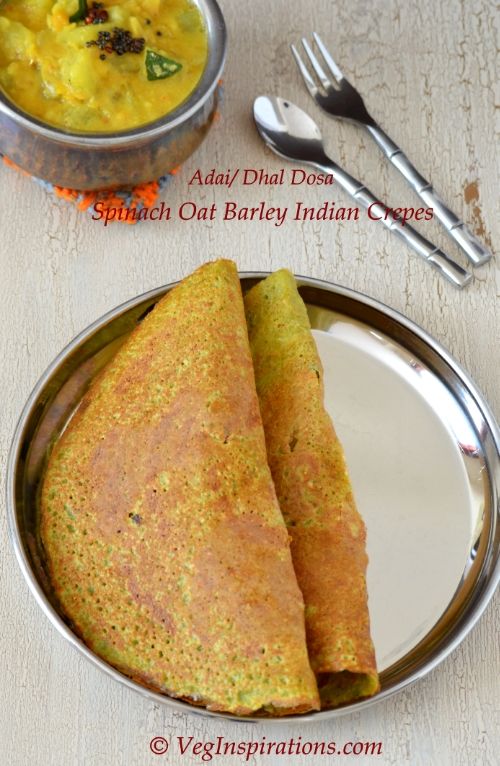 Keerai Oat Adai ~ Palak dhal dosa ~ Savory Spinach oat barley crepes