Using spelt flour instead of apf or whole wheat flour is now becoming a more frequent occurrence in my kitchen. In fact I have to admit that it has become somewhat of a default choice when I am baking quick breads and quick muffins. Spelt flour is so much lighter than wheat flour and has a very nice texture, making it a perfectly healthy choice for quick breads or muffins. To know more about spelt flour check out
this apple banana muffin post
where I explained about this flour in a little more detail.
This bread turned out very well, it was soft , tasty and very quick to make. The only problem I had with this bread was that it did not last very long and it just seemed to disappear soon after it was made :-) As a result I was not able to take very good pictures of this bread, the lighting when I took it was just not too good and the resulting pic is not too good too :-( So please do not judge this bread by its pic, it definitely tasted way better than it looked :-)
Updated on May 10, 2013: Finally got a chance to update this post with a better picture :)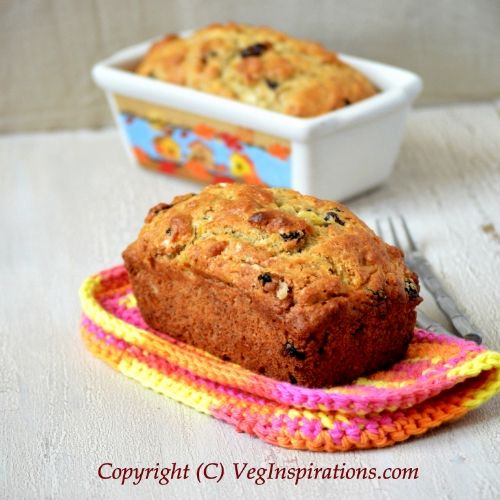 Click here for a printable view of this recipe
Ingredients and Method to make Banana Raisin Bread
Dry Ingredients
2 cups spelt flour (can be substituted entirely with all purpose flour/ maida or 1 cup all purpose flour and 1 cup whole wheat flour)
1/2 tsp salt
2 tsp baking powder
1/2 tsp baking soda
1/2 cup sugar
1/2 cup raisins
Wet Ingredients
2 large overripe bananas mashed (yielded 1 cup mashed banana)
1/2 cup plain yogurt (curds/ dahi)
1/4 cup oil
1 tsp vanilla essence
a few drops of oil to grease the loaf pan.
1 tbsp turbinado sugar to sprinkle on top (can be substituted with any other type of sugar) (optional)
Preheat oven
to 350 deg F. Grease a loaf pan with a few drops of oil and keep aside.
In a large bowl add all the dry ingredients and mix well.
Whisk yogurt and keep aside. Add mashed bananas and whisked yogurt to the dry ingredients and mix in slowly. Add oil and vanilla essence and mix well. Do not over mix as I have heard that over mixing caused spelt flour to get a more crumbly texture. So just mix until all the ingredients are mixed in.
The copyright of this content belongs to
Veginspirations.com
Pour the mixture into the pregreased loaf pan, sprinkle turbinado sugar on top if using and place in the oven to bake.
Bake about 40 to 50 minutes or until a toothpick inserted in the center comes out clean. (It took me 45 minutes) If you make these as mini loaves then the baking time is considerably lesser.
Cool, slice and enjoy :-)