The simplest way I can think of to describe Zunka is as a dry curry from Maharashtrian cuisine (a region from the western part of India) that combines some type of vegetable with chick pea flour. This curry often reminds me of the south Indian "Usili" which also combines some type of vegetable with soaked and ground chick pea lentil. The zunka is definitely a simpler and quicker cousin of the "usili" though :-)
I am pretty sure I have mentioned before, that I love curries that combine vegetables with some form of protein.....two birds with one stone and all that, you know :-) And this curry is easily one of my favorites simply because it is simple, quick, delicious and nutritious. :-)
My only complaint with this curry in the past
used to be
that it needed a little more oil than I liked to use in my curry in order for the chick pea lentil to cook fully. Ever since I figured that roasting the chickpea flour prior to adding it to the curry eliminates the need for more oil, I like this curry all the more :-) Now I make this curry whenever we feel like having it without any guilt :-)
Click here for a printable view of this recipe
Ingredients and Method to make Spring Onion Zunka
6 cups of cut spring onions (approximately 11 oz/ 300 gms)
2 tbsp oil + 1 tbsp oil
1/2 cup chick pea flour (gram flour/ besan/ kadalai maavu)
1/2 tsp mustard seeds
3/4 tsp cumin seeds
1/4 tsp turmeric powder
salt to taste
1/2 tsp red chili powder (or to taste)
Rinse spring onion thoroughly and cut both white and green parts into small 1/8 inch pieces. Keep this aside.
Heat 2 tbsp oil in a heavy bottomed pan and roast chick pea flour on a low to medium low heat, stirring frequently until the flour emits an aroma. Remove from heat and keep the roasted flour aside.
In the same pan
, heat 1 tbsp oil and add mustard seeds. When the seeds begin to splutter add cumin seeds. When the cumin begins to sizzle, add turmeric powder and stir a couple of times. Add cut spring onion, salt to taste and red chili powder and stir until the onions turn tender crisp.
Add roasted chick pea flour to the cooked vegetable and mix well. Allow the curry to cook for a few more minutes for the flavors to mingle. Stir frequently so the flour does not stick to the bottom of the pan.
The copyright of this content belongs to
Veginspirations.com
Remove and serve hot with
phulkas
or with bhakri. To learn how to make soft, fluffy phulkas check out
this post
If you are looking for recipes with spring onions, here are a few more: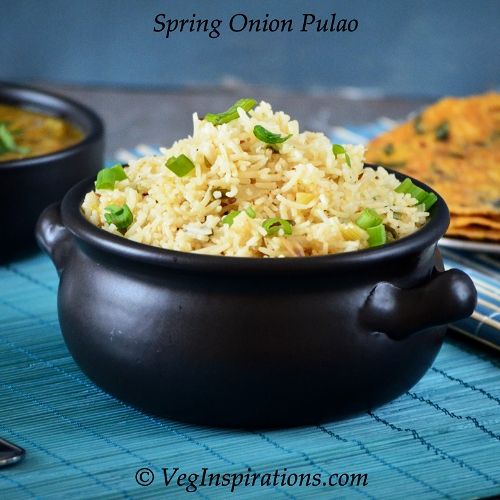 Spring Onion Pulao ~ Hare pyaaz ka pulao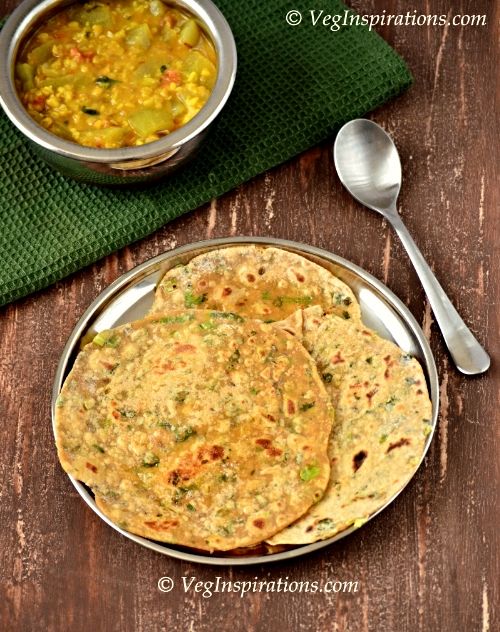 Spring Onion Roti ~ Hare pyaaz ki roti ~ Indian flat bread with green onions and spices