One of the nicest things about the apartment complex I grew up in, was this multi cultural atmosphere there that was fascinating. It was such a nice way to learn about different cultures and practices followed in different parts of the country. It was a very rewarding experience in more ways than one, after all I got to taste the cuisines from different regions of the country too :-)
One of the items I remember that I tasted and loved was a Maharashtrian style rava ladoo that a family friend made for us one day. At that time I just enjoyed it and never thought to ask for the recipe. Later though when I started cooking I used to think about that ladoo and wonder how it was made :-(
Anyway some months ago my sister in law Anu mentioned that her Maharashtrian neighbor shared her recipe to make Rava ladoo. She in turn shared the recipe with me and I immediately gave it a try hoping to recreate the sweet that I remembered from time to time. I tweaked the recipe a bit, reduced the sugar quite a bit and waited for the sugar syrup to achieve a single thread consistency. I love how this rava ladoo does not require much clarified butter / ghee at all and yet is soft and delicious.
This delicious rava ladoo that has become my new favorite and yes it tastes just like the rava ladoo that I mentioned earlier :-) I have already made this a few times and this is one of those easy peasy recipes that I am sure is going to remain a favorite in my home for a long time to come :-) So whether you are looking for a quick sweet to make for Diwali or something you want as an anytime sweet, this one is totally worth a try :-)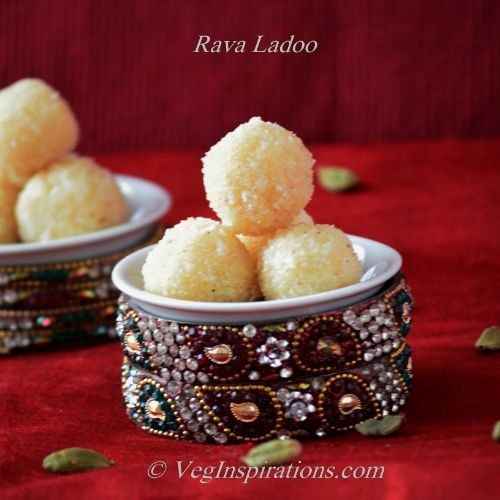 Click here for a printable view of this recipe
Ingredients and Method to make Rava Ladoo
1 cup medium rava (semolina)
1 to 2 tsp clarified butter (nei/ghee)
3/4 cup unsweetened grated fresh or frozen coconut (if frozen thaw to room temperature)
3/4 cup sugar
1/2 cup water
1/2 tsp cardamom seed powder (elaichi/ ellakkai)
handful dark raisins (optional) (see notes)
In a heavy bottomed pan
heat clarified butter (ghee), then add semolina and lightly roast the semolina on low to medium low heat until it emits an aroma. Remove and keep aside.
In the same pan lightly dry roast the coconut for a few seconds until it turns slightly creamy. Remove and keep aside along with the roasted semolina.
In the same pan add sugar and water and place on heat. Allow the mixture to simmer until the sugar syrup achieves a light one string consistency. To check to see if the right consistency has been achieved pour a drop of the syrup on a plate. Blow slightly to cool and then take the syrup between your fingers, if it forms a light thread then it is the right consistency. (see notes)
When the syrup achieves a light thread consistency, add cardamom seed powder, coconut +semolina, raisins if using and mix well. Remove from heat and cool a little.
The copyright of this content belongs to
Veginspirations.com
When the mixture is touchable yet still warm, shape into small balls of desired size. Cool thoroughly to room temperature and store in an air tight container. This does not require refrigeration if consumed in a couple of days. Any longer and it would be better stored in the refrigerator.

Notes:
If the thread is too thick then the ladoo will be hard, if it is not yet a light thread, that is if you take it off the heat too soon then it will not be possible to shape the ladoo. Getting the right consistency is important to get this sweet done correctly.

Most times when I make this rava ladoo I skip the raisins just because I like the taste of the ladoos without raisins more, so it is just personal choice if you want to use the raisins or not :-)