Spring onions are something I use often in curries, especially
this curry
with the combination of spring onions and chickpea flour is one of my favorites and is something I make often. I have rarely seen spring onions featured as a star ingredient in a pulao. So when I first came across an idea for spring onion pulao in a Sanjeev Kapoor book I was intrigued. With just cumin, garlic, garam masala and spring onions the ingredient list for the rice seemed very short and perfect for a simple lunch.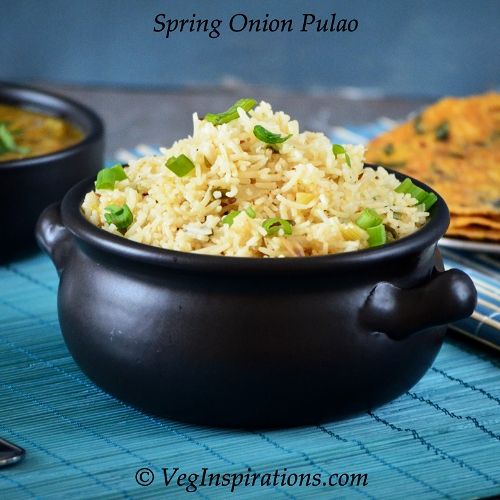 I tweaked the recipe a bit, and paired it with this low fat, protein rich
mung bean curry
that is also one of my favorites. I loved the simplicity of this pulao, in a way it reminded me of
this jeera rice
(cumin flavored rice) that I make occasionally. This rice would also be great with more rich and creamy curries like
paneer curries
too, but since I was in the mood for simple this time, that's the combination I went with, although I would probably try this rice with some kind of paneer curry next time:)
Click here for a printable view of this recipe
Ingredients
and Method to make Spring Onion Pulao
1 and 1/2 cups of basmati rice rinsed and soaked in sufficient water to submerge the grains for at least 30 mins.
7 spring onions cut fine (reserve 3 tbsp chopped greens for garnish) (hara pyaz)
2 cloves of garlic cut very fine
3 tbsp clarified butter/ ghee/ nei (can be substituted with equal quantity of any oil for a vegan version)
1 tsp cumin seeds (jeera/ jeeragam)
salt to taste
3/4 tsp garam masala ( to make your own garam masala check out
this post
)
In a large heavy bottomed pan, heat clarified butter/ ghee. Add cumin seeds to it, when the seeds sizzle, add garlic and stir until the garlic browns.
Add spring onions and stir until almost cooked.
The copyright of this content belongs to
Veginspirations.com
Drain rice and add to the spring onion mixture and stir gently a few times. Add 3 cups of water, salt to taste, garam masala and mix well. Allow this mixture to simmer on low heat with the lid closed until rice is cooked.
Once rice is cooked and soft, remove from heat. Keep this covered for another fifteen to twenty minutes. Fluff with a fork, garnish with reserved green onions, and serve hot with your choice of
curry
/
dhal
/
raita
.