When I plan my menu for the week, I usually have a rough idea of what I would make on each day, though there are times when I switch out my plans at the last minute. But there is one thing that remains mostly consistent in my menu plan, rotis, chapathis or phulkas are for weekdays, but parathas (Indian flat bread with stuffing) are for weekends. Only because parathas take a tad bit more time and on weekdays I am always looking to finish up as soon as possible in the kitchen :)
On weekdays, when I want something quick yet with some additional veggies, I usually like rotis with a variety of vegetables. Some of my favorite rotis with veggies that I have already posted in this space are...
avocado roti
,
carrot roti
,
spinach avocado roti
and
potato roti
. In addition to these, I also like to make this spring onion roti from time to time. Spring onions have a very distinctive flavor which works very well in rotis. These rotis are easy and quick to make, just pair it with some curry or dhal and you have a nutritious and delicious meal :)
Click here for a printable view of this recipe
Ingredients and Method to make Spring Onion Roti
2 cups whole wheat flour ( atta/ godumai maavu )
1 cup finely cut spring onions/ green onions/ hara pyaaz ( about 6 spring onions)
1/4 cup finely cut cilantro (coriander leaves/ hara dhania / kothamalli )
Salt to taste ( namak/ uppu)
1/2 tsp red chili powder ( or to taste) (lal mirch/ Thani molagai podi)
1/2 tsp cumin powder ( jeera pwd/ jeeragam podi)
1/2 tsp cumin seeds (jeera/jeeragam)
1/2 Tbsp oil + little extra oil/ clarified butter or ghee to apply on rotis (use oil for a vegan version)
Water as needed
a little extra flour for dusting
In a bowl add whole wheat flour and all the spices and mix well.
Add finely cut cilantro and spring onions and mix again.
Add 1/2 Tbsp oil mix into the flour mixture. Add water as needed, a little at a time and knead into a soft, non sticky dough. I used approx 3/4 cup water for this quantity of flour. Keep the dough covered for 15 to 30 mins.
Divide the dough, and roll into golf ball sized balls. Flatten a little, dust with flour and roll out into an even circle of desired thickness.
Heat a flat pan/ tawa/ skillet on medium heat and place the rolled out dough on it. When the lower side is lightly cooked, has tiny brown spots on it, flip over and cook the other side until it has brown spots on it. Gently press with a spatula or a kitchen tissue for even cooking.
Apply a few drops of oil/ ghee on the side facing the top and flip over and cook for just a few more seconds.
Serve hot with
curry
of choice, or
dhal
of choice or
raita
of choice and a pickle on the side.
Yielded approx 12 rotis.
Other recipes with spring onion in this space :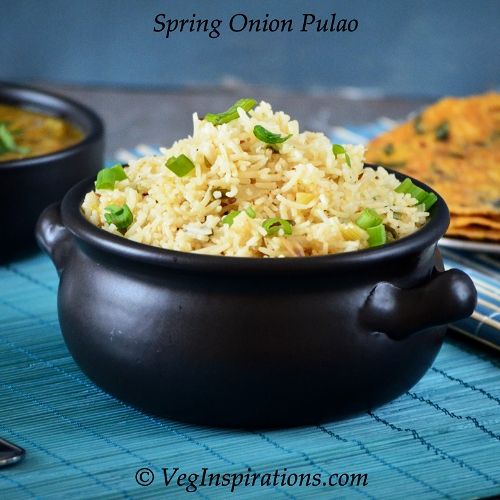 Spring Onion Pulao ~ Hare pyaaz ka pulao

Spring Onion Curry ~ Zunka