Sometimes when I am working on my site and am wondering what to write, I end up staring at the walls in my pc room hoping inspiration strikes. Well staring at my bare walls definitely provided inspiration...........but of a completely different kind, I got inspired to do something to dress up my bare walls. A while back, I had come across an idea on television to use fabric to make quick art and ever since I saw it I have been wanting to try it. I ordered some fabric, bought a canvas in the right size and stapled the fabric to the canvas and voila, instant, quick and simple fabric art:-) Now my dressed up wall looks like this........:-)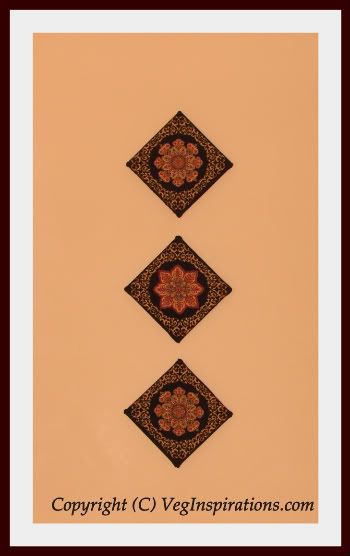 If any of you are interested in seeing the step by step pics of this art, let me know and I will update this post or separately post the steps in the future.
Moving on, a couple of months back, I had dosai (Indian savory crepes) planned for dinner, but the only things I could decide on about the dosai was that it would be the instant kind and be something with oats in it. At the last minute I decided to glance through my reader to see if any of my friends had something unique that I could try. I came across
this recipe
on my friend EC's site that caught my interest and sounded perfect for a light dinner. I tweaked the recipe a little, changed a few ingredients and quantities and added flax for some added nutritional punch. The verdict...... vermicelli added a very unique dimension and some crunch to this dosai, and the dosai was both interesting and delicious. If the idea of giving vermicelli a completely different avatar appeals to you, give this dosai a try :-)
Click here for a printable view of this recipe
Ingredients and Method to make oat vermicelli dosai
2 cups one minute oats dry roasted (or quick oats)
1 cup vermicelli (semiya) dry roasted
1/2 cup rice flour
salt to taste ( I used approximately 2 tsp)
1 cup plain yogurt (curds/ dahi/thayir)
1 1/4 cup plain water (or as required)
1 inch ginger
3 thai or Indian variety green chilies (or to taste)
7 -8 Curry leaves cut into small pieces
2 tbsp finely cut cilantro (coriander leaves/ kothamalli)
3 heaped tbsp flax seed meal (powdered flax/ alsi/ ali virai) (optional)
a little sesame oil to shallow fry the dosai
Dry roast oats, cool to room temperature, powder in a spice grinder/blender/mixer until fine and add to a large bowl. Dry roast vermicelli and add to the powdered oats.
Add salt to taste, curry leaves, cilantro and flax seed meal and mix well. Mince together ginger and green chilies and keep aside.
Whisk yogurt until it is smooth and keep aside. Add yogurt to flour mixture slowly making sure it mixes well with the flour mixture.
Then add water to the flour mixture and mix slowly to make a thick-ish batter. Add ginger- chili to it and mix well.
Allow this mixture to sit for a little while. Heat a flat pan/ griddle/ tawa on medium heat.
The copyright of this content belongs to
Veginspirations.com
Pour a little batter in the center and quickly make a circle as thin as possible. If you find that you are not able to spread easily, pour the batter around the tawa in a wider circle (as you would for rava dosai) and spread to form a thin circle. Pour a few drops of sesame oil around the circumference of the dosai. Flip over when the lower side cooks to a golden brown and cook the other side. When the other side as light golden brown spots, remove from heat.
Serve hot with chutney of choice/ molaga podi /sambar of choice
Notes:
The thicker the batter, the easier the dosai is to handle while flipping over, it also results in a more crisper dosai. If the batter is slightly more runny the dosai turns out soft but a little more difficult to handle. So do keep that in mind when you are adding water to the batter. When in doubt err on the side of a thicker batter it is much easier to correct than a runny batter.