In case you were wondering about my absence from this space, last week I was a little under weather and could not blog. But now I am better and hope to be blogging at my usual pace:) Moving on to the post, the best way I can think of to describe paniyaram are savory cakes or pops that are shallow fried in the appa kaarai /Aebleskiver pan. To see a picture of my appa kaarai, check out
this post
. Usually this is made with traditional idli/ dosai batter + some additional seasoning and is served with variety of chutneys.
The first time I tasted paniyaram was surprisingly at a famous banana chip store in Coimbatore when I visited that city more than a year back. Even though dosai and idli would frequently appear on our tables when we were growing up, somehow I do not remember paniyarams ever being made with that batter. Anyway back to the paniyarams that I tasted in Coimbatore, those were served with three kinds of chutneys, one sweetish and two more traditional chutneys and it was just so delicious. After I left the place, I regretted that I hadn't asked the guy making the paniyarams the recipe for his chutneys :)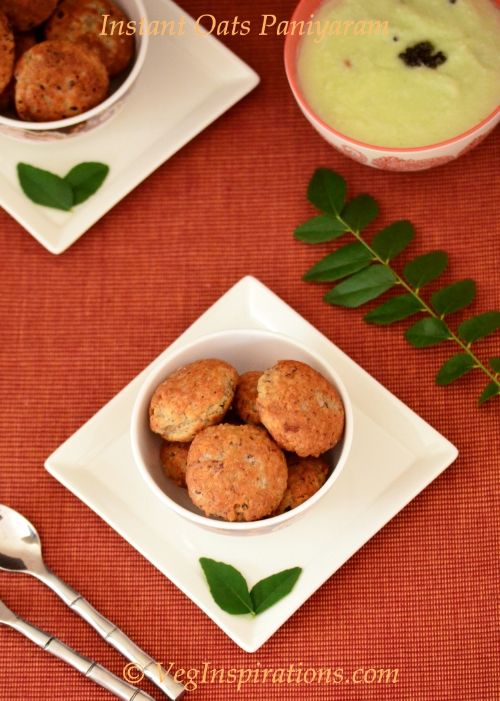 I just had it that once, but I was hooked and always thought I would love to make paniyarams when I have some extra batter, but I never got around to making it. Then my friend Manju made some yum paniyarams for me when I visited her home a few months back and I was hooked again. I realized that I really, really love paniyarams and did not want to put off making my own version any more. My version is not made with the traditional batter, instead I used a combination of oat, wheat, flax and rice flour as the base ingredients for the batter. I have made this a few times now, and everybody who has tasted it so far have liked it. Whether they are made as a snack to go with tea, or as a tiffin, or even just a light dinner, these paniyarams are nutritious, satisfying and pretty effortless :)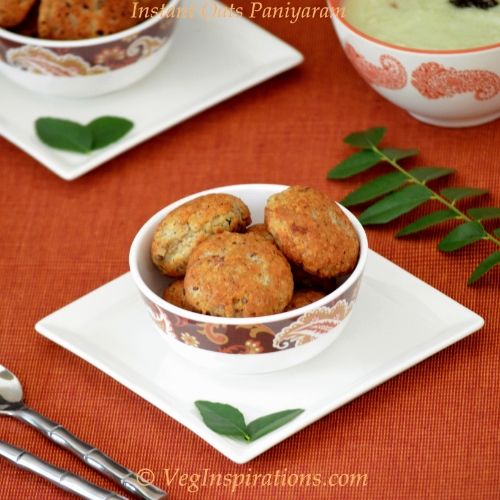 Click here for a printable view of this recipe
Ingredients and Method to make Instant Oats Paniyaram
2 cups 1 min oats (quick oats) dry roasted until creamish color
1 cup whole wheat flour
1/2 cup rice flour
4 heaped tbsp flax seed meal (powdered flax seeds/alsi/ali virai)
salt to taste
4 Thai or Indian green chilies (or to taste)
1 inch piece of ginger
1/2 cup plain yogurt
4 tbsp grated coconut (fresh or frozen, if frozen thaw to room temperature)
water as needed to get the right consistency
1/2 tsp baking soda
Seasoning
1 tbsp oil
1 tsp mustard seeds
1/8 tsp asafoetida (hing/ perungayam) (optional but recommended)
7 to 8 curry leaves broken into small pieces (optional but recommended)
a few drops of oil to apply to the aebleskeever pan (appa kaarai)
Dry roast quick oats
on low to medium low heat until oat turns a little creamy reddish color. Remove and cool to room temperature.
In a large bowl mix together roasted oatmeal, whole wheat flour, flax seed meal, rice flour and salt to taste.
Grind green chilies and ginger with some water until smooth and add to the flour mixture. Add yogurt and mix well.
Finally add water as required to achieve required consistency, the consistency of the batter should be on the thicker side but the batter should be of dropping consistency. If you are familiar with idli batter, this batter has a similar consistency. When in doubt err on the side of thicker batter, you can always add water later to achieve correct consistency.
After adding the water, add grated coconut and mix well. Heat oil in a small pan, add mustard seeds, when the seeds begin to splutter add asafoetida and curry leaves. Caution curry leaves causes the oil to splutter, so keep your face and hands away, preferably keep a lid or splatter screen handy. After the leaves are done spluttering, remove and pour entire seasoning on the batter and mix well.
The copyright of this content belongs to
Veginspirations.com
Keep the bowl closed and allow the batter to let sit for about 30 mins. Just before making the paniyaram, add some more water if required as the oat absorbs the water and makes it thicker and add the soda and mix well.
Heat ableskeever pan (appa kaarai) on medium or medium low heat, add a drop or two of oil to each mold. Or even more if you are one of the lucky ones not counting calories :). Spoon batter into each mold and cover with a lid and allow to cook until the lower side turns golden brown. Flip over with a spoon and cook the other side until it turns creamy golden. Remove from heat and serve hot with coconut chutney/
avocado coconut chutney
.
Proceed with the rest of the batter in the same manner. Refrigerate the balance of the batter and use within a couple of days. If you make the paniyaram ahead of time, warm it in the microwave before serving as this tastes best when hot.
Notes
Make sure to keep the heat at a consistent medium to medium low heat, otherwise the outer part turns dark while the middle is still uncooked.