Since spinach is so
super healthy
I am always looking for ways to include it in our regular diet. Usually spinach makes its way into
soups
,
curries
,
rice dishes
,
dhals
,
rotis
and
adai/ dosai
in our kitchen. Pretty much all kinds of food huh ? Well the one thing I haven't tried with spinach is raita, that is until now :) Raita is a yogurt based salad originating from north Indian cuisine, it's a perfect side dish to spicy rice dishes or parathas (Stuffed Indian flat bread).
A few weeks back my father in law mentioned that he saw a version of spinach raita on a cookery show that he thought was interesting and he immediately shared the recipe with me because he thought we might like it too. The raita sounded really good and the very next week I gave it a try. I tweaked the recipe a tad bit and found that the raita was very quick and simple to make.
The best word I can think of to describe the taste of this raita is "subtle". Every flavor in this raita is so very subtle, there is no one flavor that overwhelms the other flavors or which is glaringly obvious. We absolutely loved it, the cool, subtle flavors of the raita complemented the flavors of the rice I served it with perfectly. This one is definitely a keeper and I plan to make it much more often, especially during summer :)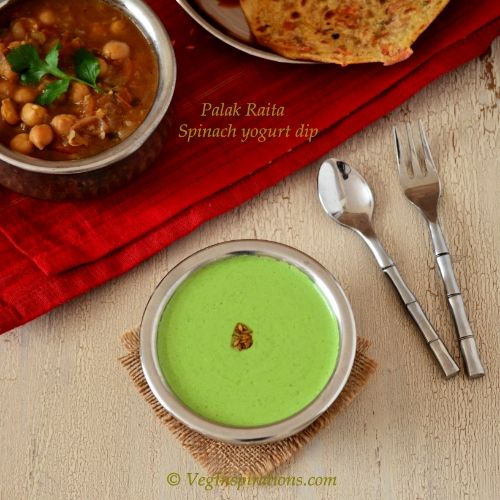 Click here for a printable view of this recipe
Ingredients and Method to make Spinach Raita
2 cups packed baby spinach leaves (Palak/ keerai) (see notes)
2 cups plain yogurt (Curds/ Dahi/ Thayir)
1 tsp sugar (Shakkar/ sakkarai)
1/2 tsp salt + additional salt to taste (namak/ uppu)
1 and 1/2 Thai or Indian green chili (or according to taste)
Seasoning
1/2 tsp oil
1/2 to 3/4 tsp cumin seeds
Add sugar
and 1/2 tsp salt to plain yogurt, whisk together until it mixes well. Then place yogurt in the refrigerator to chill.
Fill a large bowl with sufficient cold water to submerge spinach leaves then add ice cubes to the cold water and keep aside. Place another pan with enough water to submerge the leaves on heat. When the water gets hot, remove from heat, place spinach leaves in the hot water. As soon as the leaves begin to wilt remove the spinach leaves with a spatula or spoon, drain excess water and place in the bowl containing cold water with ice cubes in it. This step ensures that the spinach retains its color.
The copyright of this content belongs to
Veginspirations.com
Puree the spinach along with a little bit of chilled yogurt and green chili until smooth. Mix it with the rest of the yogurt, adjust salt to taste.
In a small pan, heat oil. Add cumin seeds to it, when the seeds sizzle pour the entire seasoning on the raita.
Mix well and chill raita.
Serve chilled with flavored rice, pulao, biryani or paratha
Notes
In case baby spinach is not available, this recipe can be made with equal quantity of mature spinach leaves
without
the stem.