First the update :) Regular readers of this site may have noticed that the share on twitter and facebook buttons at the top right of each post have disappeared since the last week. Well they haven't actually disappeared they have just been relocated. You will now find these buttons just below the title of each post. In addition to the usual share on facebook and twitter buttons I have also added a couple of new ones. One is the like on facebook that wasn't available before. The second is the pin it button for those of you who are on pinterest and wish to add any recipe to your pinterest board. The pin it button is not visible on the home page, but if you select the post or specific recipe that you want to pin, you will find the button to the right of the facebook share and like button.
Moving on to the pasta. This Thai inspired pasta is inspired by
another pasta with the same name
on this very site :) This version uses peanut butter, but does not use any coconut milk or thai curry paste. Instead it is a simple combination of ginger, peanut butter and soy sauce among other things to give this pasta a more Thai inspired flavor. This one's is becoming quite a favorite with us and I have been making this fairly frequently the last few months. I mean what's not to like, it is easy to make, tastes delicious and is very quick to put together too :) Perfect for those rushed weekdays or weekends when you do not want to spend too much time in the kitchen and yet want something light and nutritious :)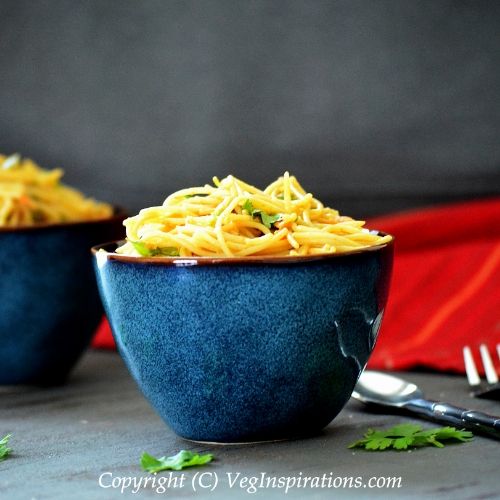 Click here for a printable view of this recipe
Ingredients and Method to make Thai Inspired Pasta
For the peanut butter pasta sauce
3 tbsp honey (use agave nectar for a vegan version)
2 tbsp low sodium soy sauce
3 tbsp oil
2 tbsp vinegar
6 tbsp smooth peanut butter
1/2 tsp red pepper flakes (or to taste)
3/4 tsp salt
1/2 cup water
1/2 cup packed finely cut cilantro (coriander leaves)
For the pasta
14 oz multi grain angel hair pasta prepared as per manufacturer's directions
4 spring onions (green onions) cut fine both white and green parts (can be substituted with 1 finely cut onion in a pinch )
1 green bell pepper (capsicum) deseeded and cut fine
1 large or 2 medium sized carrots grated
salt to taste
crushed red pepper to taste
1 tbsp oil
1 inch ginger minced fine
peanut butter sauce (recipe follows)
For the sauce
In a small bowl mix together all the ingredients mentioned under sauce except cilantro and blend together or whisk together until it blends well. Add finely cut cilantro to the sauce and mix well. Keep sauce aside.
For the pasta.
Prepare pasta as per manufacturer's instruction, drain and keep aside. In a heavy bottomed pan, heat oil, add spring onions to it and saute until cooked to a tender crisp. Add ginger and stir a few times.
The copyright of this content belongs to
Veginspirations.com
Add bell pepper, carrots, salt to taste and stir until cooked to a tender crisp. Remove from heat.
In a large bowl, assemble cooked and drained pasta, peanut butter sauce and sauteed vegetables. Toss together to mix well. Sprinkle crushed red pepper to taste (if using) and serve immediately.