Usually the words "Mughlai style" brings to mind rich creamy decadent dishes that are oozing with cream and flavor from the spices used in this style of cooking. It definitely falls under the category of indulgence in my book, something to be enjoyed occasionally , read that as rarely :) Yet from time to time I find some kinds of Mughlai recipes that surprise me or intrigue me enough to want to make it as soon as possible. One such very interesting recipe that I wanted to make as soon as I came across it was
this palak ka salan (spinach and chickpea curry)
.
A few weeks back when I was visiting my family, I was just flipping the channel when I came across the last bit of a cookery show where the lady was making a Mughlai style curry. Her use of bell peppers and zucchini and the fact that she used chick pea flour (besan) to thicken the gravy caught my interest and I was very keen to try it. When I returned, I decided to try this for a weekend lunch. At the last moment I changed my mind about wanting to use chick pea flour because I thought it might probably remind me of
this curry
instead, not quite Mughlai tasting. So I decided to use a combination of cashews and greek yogurt to give me a creamy gravy. The result was this delicious curry that we really enjoyed, can't wait to make this one again especially with some naans/ kulchas the next time :)
Here is another picture of this curry......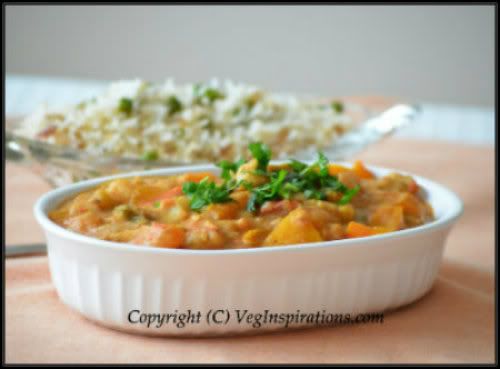 Click here for a printable version of this recipe
Ingredients and Method to make Mughlai Curry
1 large red onion cut fine
1 large yellow bell pepper deseeded and cut into 3/4 inch length strips
1 large green bell pepper (same as above)
1 large red bell pepper (same as above)
1 orange bell pepper (same as above)
1/4 cup cashew nut pieces soaked in water for 30 minutes
2 zucchini peeled and cut into 3/4 inch pieces
4 medium potatoes peeled and cut into 1/2 inch to 3/4 inch pieces
2 medium tomatoes cut fine
1 tbsp clarified butter (ghee/nei)
1 tbsp oil
3 to 4 small bay leaves
2 whole cloves
3 whole cardamoms
2 to 3- 1/2 inch pieces of cinnamon
1 inch piece of ginger minced
1/2 tsp minced garlic
salt to taste
3/4 tsp garam masala (or to taste) (can be substituted with curry powder)
1/4 cup plain unflavored greek yogurt (can be substituted with plain yogurt)
3 to 4 tbsp finely cut cilantro (coriander leaves) for garnish
1/4 tsp red chili powder (optional ) (or to taste)
Optional spice powder (powder the below three ingredients fine) (see notes)
1 cardamom seed
1/2 inch piece of cinnamon
1 clove
Heat oil + clarified butter
in a large heavy bottomed pan. Add bay leaves, cloves, cinnamon and cardamom to it and stir a few times. Add onions and saute on low heat until the onions are transparent, make sure
not to brown
the onions. Add minced ginger and garlic and stir a couple of times.
Add potatoes and cook on low heat until the potatoes are slightly soft. When the potatoes are slightly softer add bell peppers, zucchini, salt to taste, garam masala and close the pan with a lid and allow the vegetables to cook on low to medium low heat. When the vegetables are almost cooked, add tomatoes and allow to cook along with the rest of the vegetables until the tomatoes are soft.
Grind soaked cashew nuts with a little water until it turns to a fine paste. Add greek yogurt/ yogurt to this mixture and give it another turn in the blender/ mixer for it to blend together.
Add this cashew-yogurt mixture to the curry, add water if required to achieve required consistency. Adjust salt or other spices to taste, add red chili powder (if using) and simmer for a few minutes for the flavors to mingle.
Finally garnish with cilantro and spice powder (if using), remove from heat and serve hot with any kind of Indian flat bread like naan, kulcha, rotis or even phulkas. This curry can also be served with jeera rice (cumin flavored rice) or plain steamed rice.
Notes:
The additional spice powder is optional, if you want a little more pronounced flavor in your curry you can use this spice powder in the end. I felt it gave the curry a lovely fragrance and flavor. If not you can just skip it, the curry tastes pretty awesome even without it :)