Being a food blogger means that the kitchen section of any store is always appealing. I always end up spending quite a bit of time looking through different gadgets and dishes that I can use in my kitchen and as props in my pictures :) On one such trip a pretty cake stand caught my attention, I was very keen to buy it. But I balked a little when I saw the price tag. Buying a pricey cake stand when I hardly ever bake cakes just seemed a little over the top for me :)
Sometime later when I was browsing pinterest I came across a super simple diy cake stand made with a candle stand and a plate that I loved. I didn't pin the tip so I do not have the link for it, but the idea stayed with me. The one that I saw was spray painted , but when I decided to make it, I just bought a glass candle stand and a large glass plate and put it together with my glue gun and skipped the paint entirely. Here's how it looks...............
I am glad I hadn't purchased the one I saw in the store, this one worked out so much better for me:) Now the only thing I need to do is to bake more cakes so that I get to use this stand frequently :) Will keep you all posted on whether I really do end up baking more cakes:)
In the meanwhile here are some orange flavored almond cashew cookies that I bake when I am completely out of any kind of snacks. This one is super simple, does not use any butter and is really fast to make. I use almonds and cashews in it to amp up the nutrition slightly.It does not require any special ingredients just the usual stuff I keep around the home, so it is easy to put together.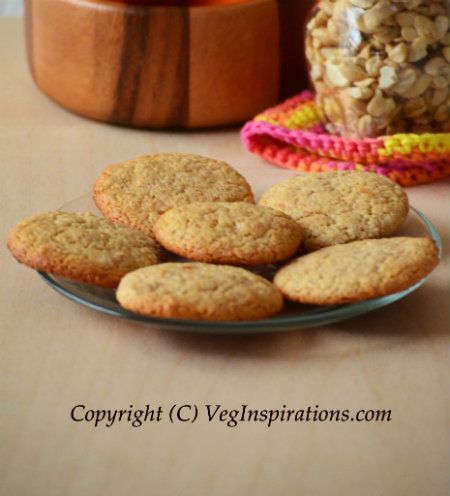 In addition I just love any bakes with orange flavor in them. So these cookies are my go to cookies not only because these cookies can be whipped up really fast at short notice, or its simplicity, but also because of its flavor and taste :)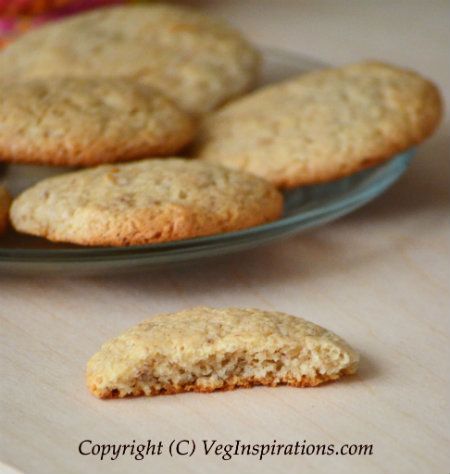 Click here for a printable view of this recipe
Ingredients and Method to make Chewy Orange flavored almond cashew cookie
1/3 cup cashew nut powder
1/3 cup almond meal (powdered almonds with skin)
1/2 cup unbleached all purpose flour (maida)
3/4 tsp baking powder
1/2 cup sugar
1/4 cup plain yogurt
1 tbsp oil
1 tsp orange extract
Pre heat oven to 350 deg F
Line a cookie sheet with parchment paper and keep aside.
In a large bowl, mix together cashew nut powder, almond meal, all purpose flour, baking powder and sugar and mix well.
Add yogurt and mix into the flour mixture.
Add oil + orange extract and mix well into the cookie mixture.
Spoon a little of the mixture onto the pre lined tray about an inch apart.
The copyright of this content belongs to
Veginspirations.com
Place in the oven and bake about 15 to 20 minutes or until the edges of the cookie begin to get a golden brown. Remove, let sit for a few minutes, then remove from tray and cool thoroughly. Store in an airtight container and enjoy as an anytime snack.