Simple curries that combine some type of green with some kind of lentils or beans are my favorite kind for a simple meal. Not only do these curries combine the goodness of the veggies with the fiber and protein of the beans/lentils but also these tend to be quicker since I can skip making a separate dhal/ sambar or something similar to complete the meal. Just make some rice or some kind of Indian flat bread on the side and voila........a complete meal:)
This curry that I rustled up in under thirty minutes definitely falls under this category. It was something I came up with on an impulse with the ingredients I had in my veggie drawer and pantry. I used canned beans and red swiss chard and used some chick pea flour (besan) to give the curry a little touch of creaminess. We loved this curry and I plan to make it more often from now on. If a simple, nutritious curry is what you are craving, give this curry a try and tell me what you think :)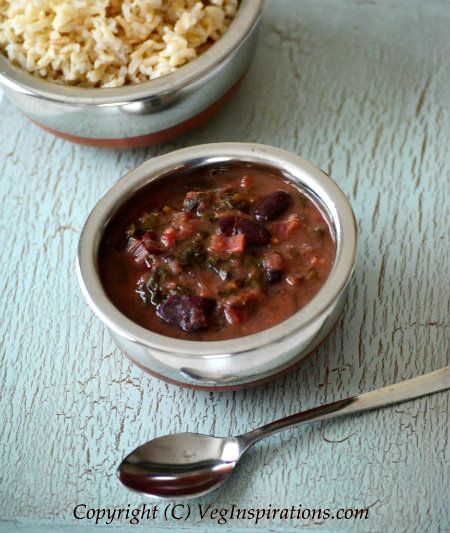 Click here for a printable view of this recipe
Ingredients and Method to make Swiss chard with red kidney bean curry
1 bunch of red swiss chard rinsed and drained and cut into 1/4 inch pieces
1 15oz can of red kidney bean drained and rinsed
1 large red onion cut fine
3 Indian or Thai green chilies cut fine (or to taste)
1/2 inch piece of ginger minced
2 tbsp oil
salt to taste
1/2 tsp garam masala (or any other curry powder )
For the recipe of garam masala check out
this link
1/4 tsp amchur powder (dried mango powder)
2 tbsp chick pea flour (besan/ kadalai maavu) + 1/4 cup water
Prep the vegetables and keep aside
. Heat oil in a heavy bottomed pan, add onion and saute until the onions turn transparent. Add green chilies and minced ginger and stir a few times.
Add swiss chard, salt to taste and a little water and allow the swiss chard to cook until soft. Add drained kidney beans, garam masala, dried mango powder and a little more water if required and allow it to simmer for just another minute or two.
Finally add chick pea flour + water, adjust water if required to achieve required consistency to this curry and allow to simmer for a few minutes for the flavors to mingle.
The copyright of this content belongs to
Veginspirations.com
Serve hot with plain steamed rice/pulao/jeera rice or any kind of Indian flat bread like phulkas/ rotis/ naan etc.