Let me begin with the Sunburst mirror first :) Ever since I made
this chrysanthemum mirror
I have had mirror fever on my brain and I have been wanting to make a few more. Finally this week I got a chance and conveniently happened to have all the material I needed on hand. This mirror unlike the first one that I made was really quick to put together and my only issue with it is that the color I used seems a little light, would probably use a darker color next time. Other than that I loved it :) If you want to check out the step by step tutorial for this mirror check out
this link
Moving on.... I think I have mentioned earlier that my cousin Sandhya and I regularly exchange health and nutrition tips with each other on our phone chats. During one such conversation she mentioned that she has now gotten hooked on to using sprouted whole wheat flour. Since I am always keen to try new and healthy ingredients this one went right on top of my shopping list and on my very next visit to Whole foods I picked it up.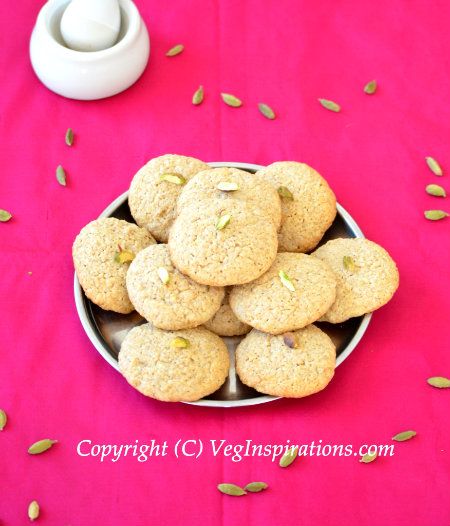 Since then I have used sprouted wheat flour in everything from chapathis/ phulkas (Indian flat bread) to pizza base to cookies and enjoyed it in all forms. When comparing sprouted wheat flour and regular wheat flour I do not see any significant difference in taste and texture. These cookies with saffron, cardamom and pistachios are something I have begun to make regularly with sprouted wheat flour. You could easily use whole wheat flour in this recipe if you do not want to use sprouted wheat or do not have it on hand. This cookie has a very Indian kind of flavor, it turns out consistently delicious and is a perfect quick treat to go with a cup of chai :)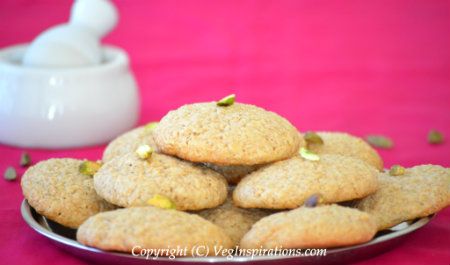 Click here for a printable view of this recipe
Ingredients and Method to make Sprouted wheat cookies
3/4 cup sprouted wheat flour (can be substituted with regular whole wheat flour/atta)
3/4 cup unbleached all purpose flour (maida)
3/4 tsp baking powder
5 green cardamom seeds powdered fine (elaichi/ elakkai)
1 1/2 tbsp finely cut pistachios (optional) (see notes)
3/4 cup sugar
1/4 cup clarified butter (ghee/nei)
2 tsp milk + 2 generous pinches saffron
1/2 cup cold whole milk
Pre heat oven to 350 deg F
. Line a tray with parchment paper and keep aside.
In a small bowl assemble the wheat flour, apf, baking powder, cardamom seed powder and pistachios and mix well.
Warm 2 tsp milk slightly and add 2 generous pinches of saffron to it and keep aside for a few minutes
Cream clarified butter + sugar until it comes together. Add the flour mixture to it and mix well.
Add cold milk a little at a time and mix well. Finally add the saffron + milk and mix well.
Pinch a little dough, roll and flatten and place in the pre lined tray about an inch apart. Score with the tines of a fork if you wish.
The copyright of this content belongs to
Veginspirations.com
Place tray in the oven and bake for approx 15 to 20 minutes or until the cookies turn a creamy brown.
Remove and cool, store in an airtight container and enjoy :)
Notes:
Pistachios are optional, I have made these cookies both with and without the pistachios and these cookies taste awesome either way :)