During my recent trip to India I ended up acquiring a bunch of cookbooks that I hope I will get a chance to try from soon. One of the books called " Classic Lunches" by Mallika Bhadrinath is the first one that I have been browsing through. This interesting book contains a lot of simple classic lunch recipes from Tamil and Andhra cuisines. The very first one that caught my eye was a simple plantain curry that was very minimally spiced with cumin seeds and coconut. This is the first recipe that I tried from the book. It's fascinating how small variations in spices and ingredients can result in something so different. I have made many kinds of plantain curries but this is the first time I tried plantain curry with cumin flavoring and I have to say it works very well.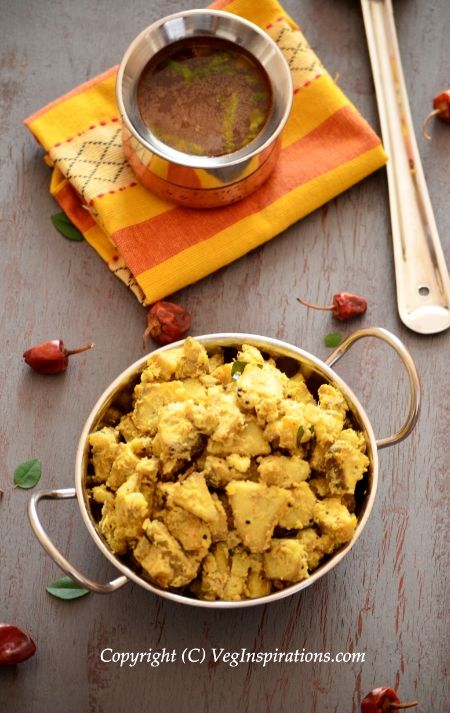 I have made this curry a few times and have tweaked the recipe a little bit from the first time I made it. It is a very simple curry, can be made quite quickly and I love the simple cumin and coconut flavor for this curry. It is perfect for the days when all I crave is a simple lunch with a curry, maybe some rasam or mor kozhambu on the side with some plain steamed rice. Nothing fancy or elaborate :) If you are craving something simple too, and plantains are something you like, give this curry a try. You might just be surprised how awesome this simple curry tastes :)
Click here for a printable view of this recipe
Ingredients and Method to make Raw banana curry
9 small plantains / raw bananas peeled, cut lengthwise then cut into 1/4 inch pieces
1/4 tsp turmeric powder
salt to taste
2 tbsp coconut oil
1 tsp mustard seeds
a pinch of asafoetida (hing/perungayam) (optional but recommended)
To grind to a fine paste
1/3 cup grated fresh coconut (or frozen) (if using frozen thaw to room temperature)
1/2 tsp cumin seeds
4 whole dry red chilies (or to taste)
Garnish
1 sprig of curry leaves broken into small pieces
Cut the two ends
of the plantains and peel them. Cut lengthwise once, then cut into 1/4 inch pieces. If the plantains are very wide and large, cut lengthwise once, the cut the halves lengthwise again, then cut into 1/4 inch pieces. Mine were small and not too thick so I just cut lengthwise once and then cut into 1/4 inch pieces. It yielded me approx 5 cups of cut pieces.
In a heavy bottomed pan/ kadai heat oil. When hot, add mustard seeds, when the seeds splutter add a pinch of asafoetida powder. When it sizzles slightly add cut pieces, turmeric powder and 1/2 cup of water. Lower heat to medium/ medium low, mix well, close with a lid and allow the plantains to cook. Turn gently and frequently to ensure the plantain cooks evenly. I didn't need it but if needed sprinkle a little more water if the plantains aren't cooked yet.
In the meanwhile grind coconut, cumin seeds and dry red chilies, adding water as required to a fine paste. If using frozen and thawed coconut, add a little warm water while grinding the paste. Keep this paste aside.
The copyright of this content belongs to
Veginspirations.com
When plantains are cooked add the paste to it and mix well. Add salt to taste and mix again. On low heat allow the curry to cook until the moisture from the paste evaporates completely and the curry becomes dry.
Garnish with broken curry leaves. Remove from heat and serve hot with plain steamed rice and some
rasam
or
mor kozhambu
on the side.
This curry is off to the "
I must make that
" event being hosted by Pallavi