Misal pav is a kind of curry that is served with pav (an Indian bread). It is usually made with sprouts, either moth beans, white peas or even chickpeas and is served topped with some raw onions, crunchy fried snacks like farsan or chivda or sev (Indian fried noodles). This curry originates from Maharashtrian cuisine (Maharashtra is a state on the west coast of India). As is often seen with many dishes, this dish too has many regional variances and different parts of Maharashtra make different versions of this dish.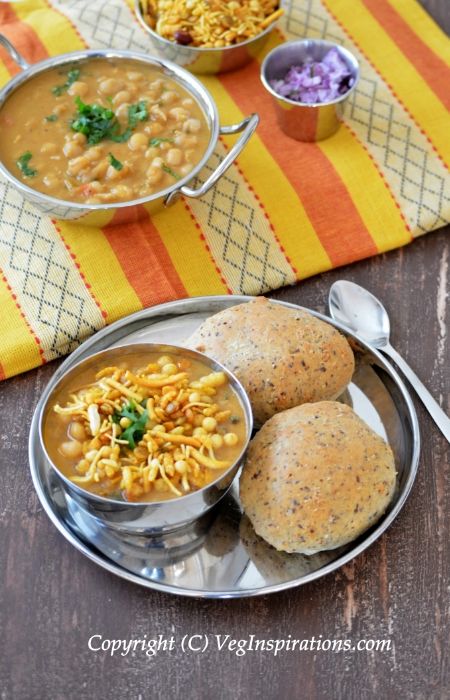 The first time I tasted misal was surprisingly at a cafeteria during an audit. Not quite the place I would have ever expected to find a new dish, much less like it :) My friends were all excited even before getting to the cafeteria because they knew that misal was being served that day and their behavior had me wondering what all the fuss was about and made me curious to try the dish that seemed to have them so excited :) Obviously once I tasted the misal I was inclined to agree with my friends that this dish definitely is worth the fuss:)
Now this is a family favorite and it features regularly in our kitchen. To make it more of a healthy meal, I use less fried toppings, even avoid it on occasion. I also serve this with wheat pav,
oat pav
or as I did this time with wheat flax pav so that I can avoid the apf. Often misal is served as a breakfast item, but in our home we love it so much that we welcome this anytime of the day. It does not matter if we have this for breakfast, lunch or dinner, just so long as we get to have it:)
Click here for a printable view of this recipe
Ingredients and Method to make Sprouted misal (Adapted from
Priya's recipe
)
1 1/2 cups dry white peas (matar) soaked for 8 hours, drained then allowed to sprout (see notes)
3 small to medium onions cut fine
3 medium tomatoes cut fine
4 Thai or Indian green chilies (or to taste)
1 inch piece of ginger minced
1/2 tsp minced garlic
2 tbsp oil ( I used coconut)
1/4 cup grated fresh coconut (if using frozen thaw to room temperature)
salt to taste
1/4 tsp cumin powder (jeera)
1/4 tsp coriander powder (dhania)
1/2 tsp dry mango powder (amchur)
1/2 tsp garam masala
1/2 tsp chili powder (or to taste)
Garnish with
handful cilantro (coriander leaves) cut fine
Serve misal topped with
farsan/ mixture/ sev (crunchy Indian deep fried snacks)
Raw onions cut fine (optional)
and some pav (a rustic Indian bread) on the side to mop up the curry (Here is the recipe for
pav
and
oat pav
)
Soak the peas for 8 hours, drain then add to sprout maker and allow to sprout. I allowed mine to sprout for a little longer than 24 hours I think. Then cook the peas with sufficient water in a pressure cooker until soft. Alternatively these peas can be cooked on the stove top, just takes a little longer :) If you do not want to sprout the peas then the peas can be cooked after being soaked for 8 hours.
Heat oil in a heavy bottomed pan, add onions and saute until onions are transparent. Then add minced ginger and garlic and stir a few times
Then add tomatoes and cook until soft and mushy. Then add grated coconut and saute for a bit.
Remove, cool this mixture then puree it in the blender/ mixer until smooth.
Add the pureed mixture back to the heavy bottomed pan, add cooked beans and all the spices. Add water to achieve required consistency and simmer the mixture for a few minutes for the flavors to mingle.
The copyright of this content belongs to
Veginspirations.com
Garnish with cilantro. Serve hot topped with farsan/ mixture/sev( crunchy Indian deep fried snacks) and raw onions (if using) along with pav (Rustic Indian bread) on the side.
Notes:
If you do not want to sprout the peas you can soak white peas for 8 hours, drain, fill with fresh water and cook in the pressure cooker or the stove top until soft yet not mushy.
Ideally misal tastes best with pav. But if you do not have pav, you can also serve this with any other kind of non sweet bread like sandwich bread/ or any kind of rustic Italian bread or even plain Indian flat bread like chapathi/ phulka
White peas can also be substituted with chickpeas too.