Recently I purchased a large box of organic baby spinach and as a result had somewhat of a spinach fest in my home for the next week or so until I used up all the spinach. What I love about spinach is that it is so very versatile, it works perfectly in so many types of cuisine and tastes good in all its variations. Whether used in
soups
,
roti (Indian flat bread)
,
curries
,
south Indian kootus
,
flavored rice
or even
raita
, this healthy green just seems to work in everything. One of the curries I made with spinach this time was aloo palak that was on the menu for lunch one weekend :)
Aloo palak, a north Indian curry with potatoes and spinach, is a very popular curry. Most restaurants offering north Indian cuisine offer this item on their menu. I have tasted and made many variations of this curry. But this version with baked potatoes added to spinach gravy is my most favored version. It is definitely simple and doesn't take very much time to make either :) If spinach is on your menu give this version a try and as usual, do give me your feedback on it :)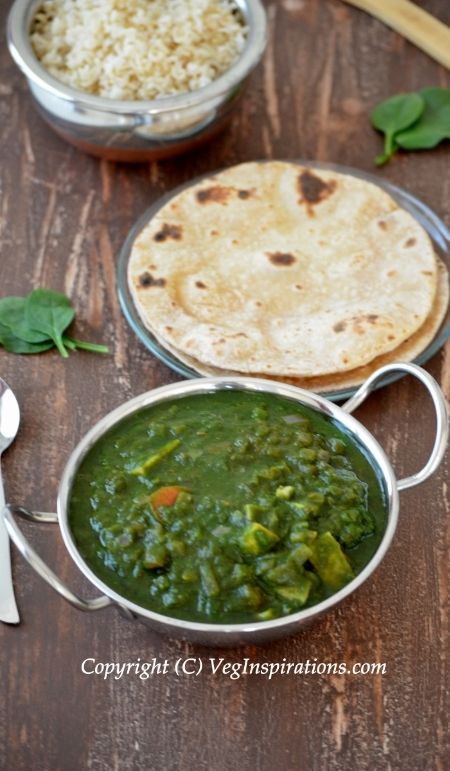 Click here for a printable view of this recipe
Ingredients and Method to make Aloo Palak
3 1/2 cups of packed spinach leaves (Palak/ Keerai)
3 medium sized potatoes peeled and cubed (Aloo/ Batata/Urilakizhangu)
1 large red onion cut fine (pyaaz/vengayam)
2 large tomatoes cut fine (Tamatar/thakkali)
1 to 2 Tbsp oil and a little extra to brush on the potatoes
1/2 tsp cumin seeds (jeera/jeeragam)
1/2 tsp minced ginger (adrak/inji)
1/2 tsp minced garlic (lehsun/poondu)
3 Thai or Indian variety green chilies (or to taste) (hara mirch/pachai molagai)
2/3 tsp garam masala (or any other curry powder) (or to taste)
1 tsp sugar(shakkar/sakkarai)
Salt to taste (namak/uppu)
Pre heat oven to 425 deg F
. Prepare a tray by lining it with parchment paper and keep aside.
Peel and cube potatoes and place on pre lined tray a making sure they are not over lapping. Brush on a little oil on top of the potatoes and place in the oven and bake for 20 to 25 minutes turning once or twice in between to ensure even baking. Remove when the potatoes turn light golden in color.
Place spinach leaves in a bowl of hot water for a couple of minutes. When the leaves begin to wilt remove with a slotted spoon and place in a bowl of cold water. Drain this spinach and puree along with green chilies.
Heat oil in a heavy bottomed pan, add cumin seeds. When the seeds begin to splutter, add onions and saute until transparent. Then add minced ginger and minced garlic and stir a few times
Add tomatoes and stir until tomatoes are cooked, soft and mushy.
Add garam masala, spinach puree, salt to taste, sugar (this helps in retaining color of the spinach) and baked potatoes. Add water if required to achieve required consistency and simmer for a few minutes for the flavors to mingle.
Remove from heat and serve hot with
phulkas
/
rotis
/
parathas
/ or any kind of Indian flatbread or with plain steamed rice/
jeera rice
/ or any kind of pulao or flavored rice.
The copyright of this content belongs to
Veginspirations.com
Notes:
In case you do not have an oven or do not want to use one, the potatoes can be shallow fried on the stove top with a few drops of oil. Alternatively you can cook the potatoes, then peel then cube and use it as is in the curry. I have tried all three methods and and my order of preference is first, this version where the potatoes are baked in the oven, second to shallow fry potatoes and last cooked potatoes cubed and added to the curry. All three taste very good, don't get me wrong but that is just how I prefer it :)