First the beaded mirror :) I know I have to absolutely stop with the mirrors, but as I mentioned in
this earlier post
, I really do think I have mirror fever on my brain and it seems I have to get it out of my system. So I been making mirrors every chance I get. Since I have taken up
making jewelry with beads as a hobby
I always have beads around my home. After I made
this sunburst mirror
with some rope to frame the mirror, I wondered how it would have looked with beads instead of rope to frame the mirror. Since I had some beads that I had bought in bulk that were not getting used in any other way I decided to try using it in a mirror and satisfy my curiosity. The first one looks like this.....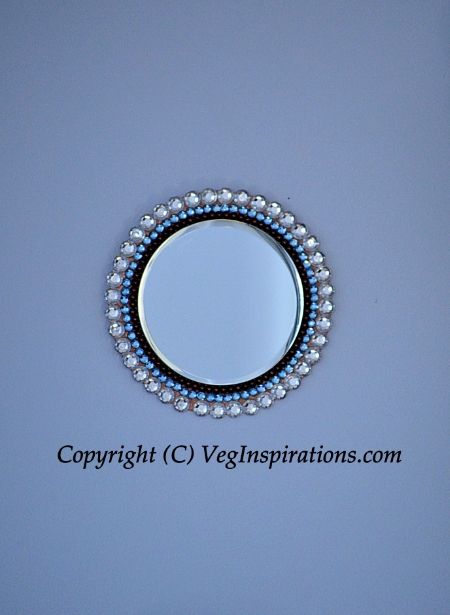 I have posted the picture of the second one and all the DIY steps in
this post on Bead creationz
. If you are interested in this kind of thing, take a peek into the post and let me know what you think about it :)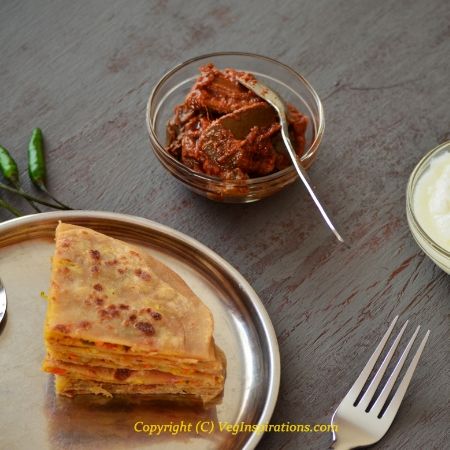 In the meanwhile let me move on to the mixed vegetable paratha. This one is a classic from north Indian cuisine. Paratha is essentially an Indian flat bread with stuffing in it, in this instance a stuffing made of mixed vegetables. It is simple, hearty and satisfying dish. Pair this with a curry/ dhal and some plain yogurt and a little pickle on the side if you like it and you can enjoy a delicious satisfying meal :)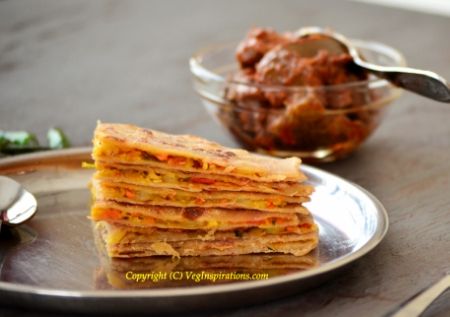 Click here for a printable view of this recipe
Ingredients and Method to make Mixed Vegetable Paratha
For the dough
2 cups whole wheat flour
Approx 3/4 cup water
Salt to taste (I used approx 1 1/4 tsp)
2 to 3 tsp oil
For the filling
1 small red onion cut very fine
1 small potato cooked until soft and peeled, cooled and grated fine.
2 small carrots grated fine
7 to 8 mini peppers cut very fine (or half a bell pepper/capsicum cut very fine)
1/4 head of a medium cauliflower cut very fine
4 Thai or Indian variety green chilies cut very fine ( or to taste)
1 tbsp oil
3/4 tsp cumin seeds (jeera)
1/4 tsp turmeric powder
2 to 3 tbsp finely chopped cilantro (coriander leaves)
salt to taste
A little clarified butter (ghee) or any oil to shallow fry the paratha (use oil for a vegan version)
For the dough
Place the flour and salt in a large bowl and mix well. Add water and oil and knead till it becomes a soft , pliable and non sticky dough. Keep covered and let sit for at least 30 minutes.
Prep all the vegetables by cutting/grating them separately as mentioned above. A chopper or food processor is handy for this since it gives evenly finely cut vegetables.
Heat oil in a heavy bottomed pan, add cumin seeds. When the seeds sizzle and green chilies and stir a couple of times. Then add onion and stir for a few minutes until the onions turn transparent.
Add all the other vegetables, turmeric powder, salt to taste and stir for a few minutes until the vegetables are cooked but not mushy.
The copyright of this content belongs to
Veginspirations.com
Roll the dough into equal large lemon sized balls and keep aside.
With the help of a little flour if required, roll the dough into a small pancake sized circle. Place a little of the cooked vegetable mixture on the center of the dough. Pull together the ends of the dough, join and flatten gently. Refer to
this post
for pictures of this process. With the help of a little flour roll out the dough into a small circle of desired thickness and keep aside.
Heat a griddle/ tawa/ flat pan on medium high and place the stuffed rolled out dough on it and cook for a minute.
Flip it over and cook the other side, apply a little clarified butter (ghee) on the side facing upwards, turn over and apply clarified butter on the other side and cook for an additional minute until light brown spots start to appear on the bread.
Remove and serve hot with plain yogurt / pickle or dhal / curry of choice.
Proceed with the rest of the dough and the spice mixture in the same manner
This quantity yielded approx 8- 10 parathas.