Buckwheat, despite its name is not related to wheat in any way. It is actually a grain like fruit seed, from a plant that is called Fagopyrum esculentum, and is related to plants like sorrel and rhubarb. Buckwheat is known to have some amazing health benefits, it is said to lower the risk of developing high cholesterol and high blood pressure. Some studies find that the nutrients in buckwheat may contribute to blood sugar control and may be helpful in the management of diabetes. Buckwheat is also a great source of magnesium, iron, potassium, zinc, selenium and is also very high in fiber.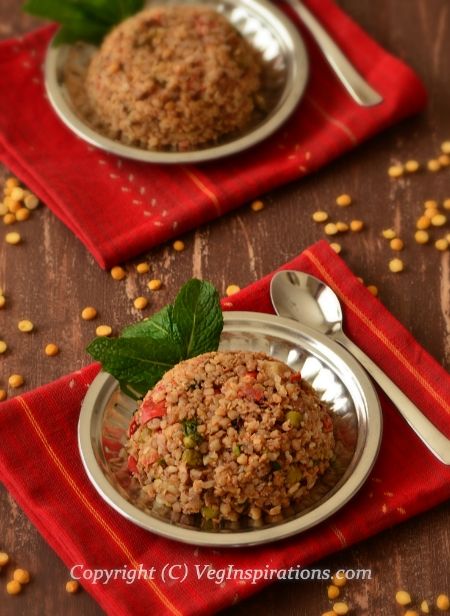 Recently on a trip to my local health food store I came across roasted buckwheat and decided to give it a try. As with some other grains I have tried in the past, in this instance too I had no clue what I would use it in, or how it tastes. I just knew that it was very healthy and that I wanted to try something with it. After discarding many ideas I finally decided on trying a simple upma with it. Upma is a savory Indian snack, traditionally served as a light dinner or at breakfast usually made with many different ingredients, the most popular version made with semolina.
I didn't really know what to expect and was pleasantly surprised that the upma turned out so well. Buckwheat has a slightly nutty and chewy taste when cooked and the flavors of this upma worked very well with the nutty taste of buckwheat. The upma had an almost pilaf like feel to it and this was a very filling and satisfying dish. I can't wait to try buckwheat in a host of other dishes, I definitely plan to use a lot more of it in my kitchen :)
Click here for a printable view of this recipe
Ingredients and Method to make Buckwheat upma
1 and 1/2 cups roasted buckwheat (kasha/kuttu) (can be substituted with raw buckwheat )(see notes)
1 red onion cut fine
2 medium tomatoes cut fine
1/4 head of cauliflower broken into florets
1 large red bell pepper deseeded and cut into 1/4 inch pieces (can be substituted with green bell pepper/capsicum/koda molagai)
1/2 cup fresh or frozen peas (if frozen thaw to room temperature)
2 tsp oil + 1 tbsp oil
4 Thai or Indian variety of green chilies cut fine (or to taste)
7 to 8 curry leaves
1 tsp mustard seeds
1 tsp split chick pea lentil (chana dhal/ kadalai parappu)
Salt to taste
4 tbsp finely chopped cilantro/ coriander leaves for garnish
1 and 1/2 tbsp lemon juice for garnish (or to taste)
Roast the buckwheat
in 2 tsp oil on low to medium low heat in a heavy bottomed pan. This just took a couple of mins (if you have raw buckwheat, see notes) Remove and keep aside.
In the same pan heat the rest of oil on medium heat, add mustard seeds, when the seeds begin to splutter, add chick pea lentil and stir until it turns reddish. Then add green chilies and curry leaves (keep a lid handy as sometimes, curry leaves splutter a little and cause oil to splatter slightly. Stir a couple of times, then add onions and saute until it turns translucent. Add tomatoes and stir until the tomatoes turn soft and mushy.
Add all the vegetables, salt to taste and about 1 cup of water and allow the vegetables to cook until soft, yet not mushy.
The copyright of this content belongs to
Veginspirations.com
When all the vegetables are cooked, add water as required (see notes for quantity of water) , salt to taste and bring to a boil. When water is boiling,. lower heat and add buckwheat and allow it to cook until soft, stirring in between to ensure even cooking.
Finally garnish with cilantro and lemon juice to taste and serve hot with chutney or pickle or even on it's own.
Notes:
I purchased roasted buckwheat, so the roasting I did just before making upma was just to enhance flavor. If you get raw buckwheat, you may need to roast over low heat for a few minutes more, until it achieves a golden brown color and is evenly roasted.
To cook buckwheat, water is added at twice the ratio of buckwheat. That is, one cup of buckwheat requires 2 cups of water to cook it. After the vegetables are cooked, if there is plenty of water left in the pan, adjust the water you add, bring to boil, then add buckwheat. I had approx 1/4 cup of water left in the pan, so I added 2 and 3/4 cups of water, brought it to a boil and added buckwheat to it.
This Buckwheat Upma is off to the
Healthy Me & Healthy Us event being hosted by my friend Priya
and to the
HITS – Diabetic friendly
and
HITS page
"