Veg Kolhapuri is a Maharashtrian curry made with a medley of vegetables. Typically a lot of dishes from this region use dry coconut in their masala. In addition to dry coconut, this curry also uses sesame and this fascinating combination lends this curry a very unique and interesting taste. This popular curry is offered in many Indian restaurants and even sometimes featured in wedding reception menus and I have tasted many variations of this curry over time. Invariably the restaurant versions or caterer versions always tend to be pretty oily, making me a little hesitant to taste more than a spoon of the curry at most. There were times when I could actually see the grease float on the top. Eeeeek!!! not quite what I would ever want to make at home :)
But then, that's the best part about recreating favorite restaurant recipes at home, isn't it? We get to control the ingredients and make healthier versions of our favorites for our families without compromising on taste :)
I love making this curry at home, it tastes perfect with phulkas/ rotis or even plain steamed rice. My only issue with making it often used to be availability of dry coconut. My local Indian grocer does stock dry coconut but it is sold in a large pack, which I am not able to use up entirely. And there were a few times that straight out of the packet, the coconut tasted a little old and I felt it spoiled the taste of the dish. Dry coconut has a fairly long shelf life but it cannot be stored forever, after a point it does turn rancid.
My solution to this has been to dry coconut in my oven. This has proved to be a very neat solution to my problem, I get to dry just as much coconut as I need and do not have to worry about wasting any leftover dry coconut. It tastes far fresher and tastier than the store bought version too. And so long as I have fresh coconut on hand, I also have the ability to get dry coconut, so I do not have to worry about stocking up this ingredient separately. If you do not get dry coconut in your area or the kind you get is something that you dislike, you could try this tip to dry coconut too. Its simple and straightforward, just like this curry :)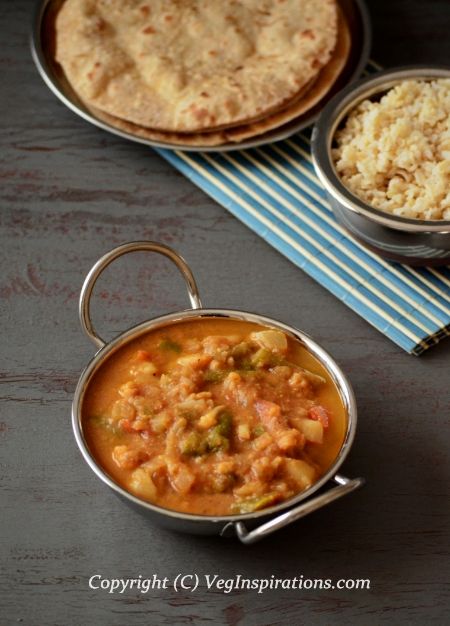 Click here for a printable view of this recipe
Ingredients and Method to make Vegetable Kolhapuri
For the curry
3 medium onions cut fine
3 medium tomatoes cut fine
1 green bell pepper (capsicum/ koda molagai) deseeded and cut into 1/4 inch pieces (can be substituted with red bell pepper too)
3 large carrots cut lengthwise into 1 inch pieces
1/2 head of cauliflower broken into florets
3 medium sized potatoes, peeled and cut into 1/2 inch pieces
1 1/2 heaped cups beans snipped and cut into 1 inch pieces
2 tbsp oil
salt to taste
1/2 tsp red chili powder (can be substituted with cayenne pepper) (or to taste)
3/4 tsp garam masala (or any other curry powder) (my recipe for garam masala is
here
)
For the masala
1 inch piece of ginger
4 cloves of garlic
1/2 tsp fennel seeds (saunf/sombu)
1/2 tsp coriander seeds (dhania/kothamalli virai)
2 heaped tbsp sesame seeds
1/4 cup grated dry coconut (kopra) (if you do not have dry coconut see notes)
5 small whole dry red chilies (or to taste)
Grind all the ingredients
mentioned under masala to a smooth paste in a small spice grinder/ blender using as little water as is needed and keep the paste aside.
Prep all the vegetables as required and keep aside. Heat oil in a heavy bottomed pan, add onions and saute until onions turn translucent.
Add the masala paste and stir on low to medium low heat until all the moisture from the paste evaporates and the paste dries, add tomatoes and stir until the tomatoes turn soft and mushy.
The copyright of this content belongs to
Veginspirations.com
Add all the vegetables, chili powder, salt to taste and water as required and allow to simmer until the vegetables are cooked, yet not mushy. Adjust water as required to achieve required consistency, adj salt and chili powder to taste and add garam masala and allow the curry to simmer until the flavors mingle.
Remove from heat and serve hot on a bed of plain steamed rice, or with a side of rotis/ phulkas/ chapathis (Indian flat bread)
Notes:
If you do not have dry coconut, pre heat oven @ 250 deg F. Line a tray with parchment paper and spread approx 1/2 cup of fresh grated coconut on the lined tray and place in oven and bake for approx 25 to 35 minutes or until it turns a creamy golden color. Remove and use in recipe as required. You can easily dry more quantities of coconut at a time, I usually dry only so much because I hardly use dry coconut very much.