First let me start with the faux mosaic frame :) I have a stack of unusable cds/dvds that I've never really figured out what to do with, they just continue to lie in some part of the closet collecting dust. Recently I had one of those "Well duh !! Why didn't I ever think of that? " moments. These moments, I have noticed, happen often, especially when I am browsing the internet:) I discovered that cds can be cut into little pieces. I have no clue why I never ever thought of cutting cds before, but I was really glad I did. The best part is that they are really easy to cut up too. So the next thing was to figure out how to use it....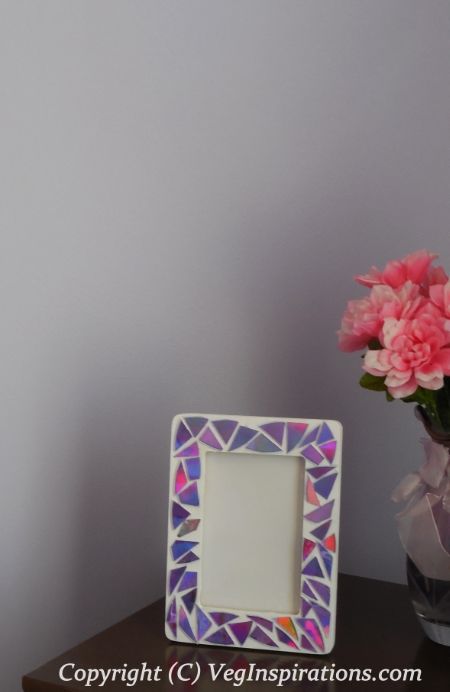 This frame was the first thing I thought of to decorate with the cd pieces. I had a couple of unfinished wood frames that I was planning to paint or stain to a different color, but I just placed the cd pieces on them and loved the look of it. So I decided to give the frames a kind of faux mosaic look. If you are interested, check out
this post
for a detailed tutorial on this frame.
Moving on to the strawberry ice cream. It feels strange to talk about ice cream when the weather outside is almost freezing. But here's the thing, R enjoys frozen treats even in freezing cold weather while all I want is a piping cup of chai tea when the weather turns cold.
Recently we had a little warm up for a couple of days before the weather got all cold again. And I thought it might be a good time to treat R to a batch of homemade ice cream. Since I had a large box of strawberries lying in my refrigerator, the choice of which flavor ice cream to make was kind of a no brainer. This is an ultra simple recipe that hardly requires any effort at all. Just puree, mix and churn in an ice cream maker and voila, a yum frozen treat. If you do not have an ice cream maker I have provided a link below to make this ice cream without one. This turned out to be a perfect treat and I have to admit, I have been digging into it even though the weather has gotten back cold again.....hmmm maybe R is onto something :)
Click here for a printable view of this recipe
Ingredients
and Method to make Strawberry Ice cream (Adapted from
this Carnation recipe
)
2 cups fresh strawberries
1 can (12 fl oz) evaporated milk
a pinch of salt
1 tsp lemon juice
3/4 cup granulated sugar
Clean and prep the strawberries. Puree strawberries with a little evaporated milk. Pour in a large bowl.
Add a pinch of salt, lemon juice and sugar and mix well or give it a turn in the blender for it to mix well.
The copyright of this content belongs to
Veginspirations.com
Use ice cream maker to churn this ice cream as per manufacturers directions. Mine requires the mixture to be chilled for a couple of hours and then churned in the machine. If you do not have an ice cream maker than place the mixture in the freezer. When it begins to freeze around the edges, remove and stir it vigorously with a whisk or spatula. Return to freezer and continue this process every 30 or so minutes, stirring at least five to six times. Allow it to freeze and serve. If you want more details on this process check out
this post