First the update :) For the last few weeks I have been diligently updating pictures on some of my older posts. If you want to take a quick peek at some of the pictures, these are the posts that I have recently updated....
Oat Upma made with Steel cut oats
Mor Kozhambu (Okra in buttermilk gravy curry)
Low Fat Cranberry cookies
Carrot Halwa (Indian dessert made with carrots)
Milaguishyam( Medley vegetables in a lentil gravy curry)
Am planning to update some more pictures soon, will keep you all posted when I get around to doing it :)
Moving on, every time I go grocery shopping these days, my eyes are drawn to the variety of colorful squashes in the vegetable section. I like all kinds of squash, they are versatile, low in calories and taste great in all kinds of curries. This time I ended up buying yellow squash and combined it with mung bean to make kootu (a south Indian curry with coconut paste) This is the first time I have combined mung bean with yellow squash and I loved the combination, I kept the flavors in this curry simple, nothing too fancy or exotic. Yet this humble curry tasted fantastic with both rice and phulkas. It is perfect for a quick meal, it does not take too long to make and it is both nourishing and satisfying at the same time.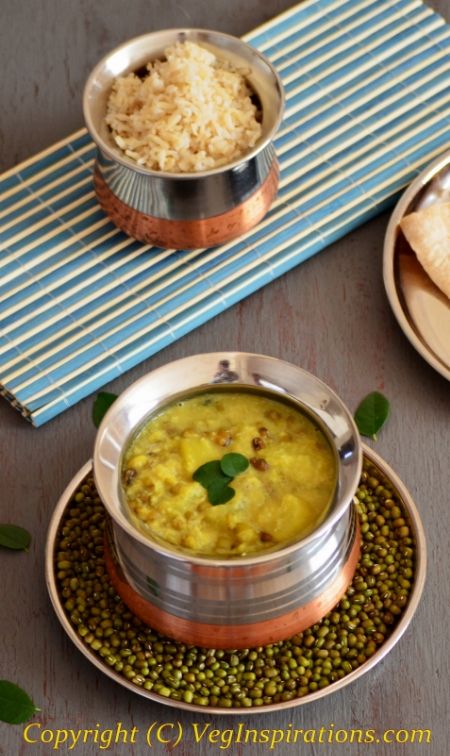 Click here for a printable view of this recipe
Ingredients and Method to make Squash with Mung Bean Curry
1 cup mung beans (green gram/moong beans/pachai payaru) soaked for 8 hours
6 medium yellow squash ends cut off and peeled (see notes)
1/4 tsp turmeric powder
salt to taste
Grind to a smooth paste
1/2 heaped cup of fresh grated coconut (or frozen) (If using frozen thaw to room temperature)
5 Thai or Indian green chilies (or to taste)
Garnish with
1 tbsp coconut oil
7 to 8 curry leaves broken to small pieces
Cut the ends, peel the skin of the squash and cut lengthwise, then cut each half lengthwise again, then cut into 1/4 inch pieces. Yielded approx 4 1/2 cups of cut pieces.
Drain the soaked mung beans, place them in a large pot and sufficient water and allow the beans to cook until almost soft.
When almost done, add squash, turmeric powder, salt to taste and water if required and allow the squash to cook until soft.
Grind coconut and green chilies to a smooth paste and keep aside. If using frozen and thawed coconut, use warm water while grinding.
When the squash is cooked add coconut paste, allow to simmer for a few minutes for the flavors to mingle.
Finally remove from heat, add coconut oil and mix well. Then garnish with curry leaves.
The copyright of this content belongs to
Veginspirations.com
Serve hot on a bed of plain steamed rice or with some
phulkas
/
chapathis / rotis
Notes:
Yellow squash can be substituted with zucchini or bottle gourd (doodhi/lauki)