Every time I traveled to southern India, I was fascinated by the kind of stuff offered in the bakeries there, it just seemed so totally different from the kind of stuff offered in bakeries back in Bombay. For one, there seemed to be a lot more savory breads and stuffed breads being offered there. One such item that seemed unique to southern India at the time was a savory preparation made with sandwich bread called chilli cheese toast.
Essentially chilli cheese toast is a slice of bread topped with cheese, chillies, a small amount of onions and sometimes bell pepper, a kind of open sandwich. It is a fun tea time or even as an any time snack :) My version of this sandwich is a bit different from the ones I came across in bakeries in southern India. Mine tends to be a bit heavier on the veggies, and I go light on the chillies. I feel like the one I make feels more "sandwich like" and a little less "toast like" :) This sandwich tastes great as a snack or even as a side to any kind of soup.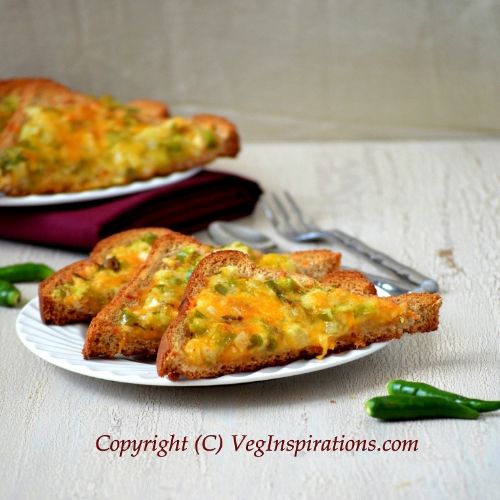 Click here for a printable view of this recipe
Ingredients and Method to make Chilli cheese toast
6 slices of wheat bread
2 to 3 tsp extra virgin olive oil
1/2 onion cut fine
1/2 green bell pepper (capsicum/ koda molagai) cut fine
salt to taste
1 Thai or Indian variety green chilli cut fine (or to taste) (see notes)
2 tbsp finely chopped cilantro (coriander leaves/ hara dhania/kothamalli) (optional)
approx 1 to 1 and 1/4 cup of shredded cheese of choice (or more or less according to taste)(I used a combination of pepper jack cheese and mozarella cheese) (I have also used pizza blend cheese, cheddar and mozarella blend cheese for this sandwich in the past)
Pre heat oven to 350 deg F. Line a tray with parchment paper and keep aside.
In a small bowl
add onions, bell pepper, green chilli, cilantro and salt and mix well. Add shredded cheese to this and mix again.
The copyright of this content belongs to
Veginspirations.com
Apply olive oil on one side of each slice of bread and place the side with the oil facing down on the pre lined tray.
Spoon two to three heaped tbsp of vegetable and cheese mixture on each slice of bread. Place tray in oven and bake until cheese has melted or until the lower side of the bread becomes an even golden brown.
I prefer my bread and the cheese on it to be "well done" so I bake the bread for approx 20 to 25 minutes or so. If you want it a little softer, take it out as soon as the cheese has melted or a couple of minutes after that. The baking time will also depend on how much "stuffing" you place on each slice, if you use very little it could get done way faster.
Cut the bread slices in half, either diagonally or straight and serve hot with ketchup. This can also be served as a side for any kind of
soup
.
Notes:
If you want to avoid green chillies for any reason, you can also season this sandwich with black pepper powder or with red pepper flakes as per choice. Alternatively you can also add finely chopped jalapeno for a slightly different flavor and taste in this sandwich.