Pearl Millet which is known as bajra/ kambu in Hindi/ Tamil has numerous health benefits. Pearl Millet is a good source of protein, fiber and has many essential minerals like magnesium, phosphorous and zinc. Studies show that magnesium is not only important for good heart health but has also proven beneficial in reducing the severity of asthma attacks, reducing blood pressure and in reducing frequency of migraine attacks.
Pearl millet is also recommended for stomach ulcer as it has alkaline properties and ulcers are often caused by excess acidity. So consuming pearl millet is supposed to help in reducing the effect of ulcers and in preventing the formation of ulcers. All kinds of millets including pearl millet are said to help in reducing the risk of cancer. Amazing isn't it that this grain has such amazing benefits. For a while now I have been wanting to include some form of pearl millet into our regular diet.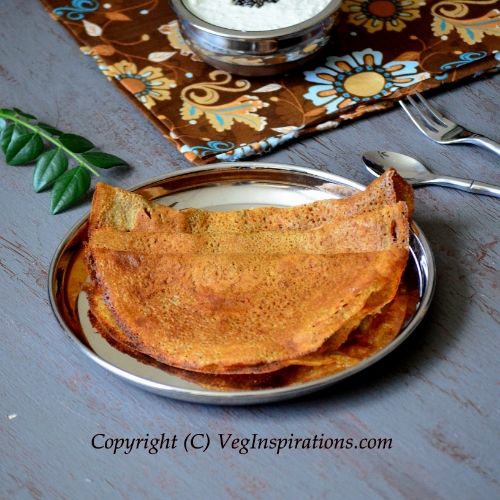 I decided to start with pearl millet flour with the intention of trying it out in something like thalipeeth (a flat bread from Maharashtra, a region in western India) But before I got around to doing that I decided to use it in dosai. Dosai (Savory Indian crepe), as regular readers of this space might have already guessed is my favorite kind of food :) And I never seem to get tired of trying out different kinds of dosai, especially the instant kind that comes in so handy for weekend morning breakfasts :) This one has all the goodness of oats, finger millet (nachni/ ragi) , buckwheat and pearl millet (bajra) and the best part, you can never tell from the taste that everything in it is so super healthy. It turns out thin and with crisp edges and softness in the center. Just perfect :) Pair it with your favorite chutney/ sambar or potato masala curry and enjoy :)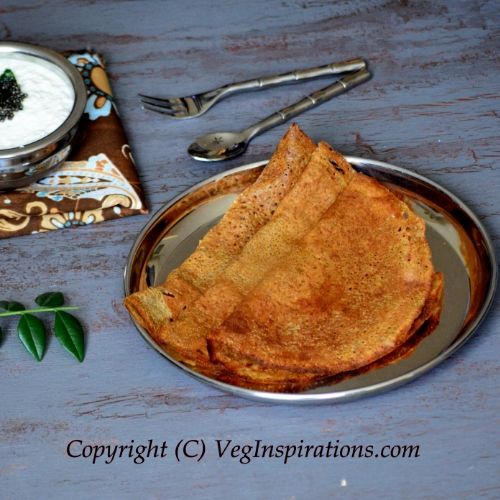 Click here for a printable view of this recipe
Ingredients and Method to make Instant multigrain dosai
1/2 cup buckwheat flour (kuttu ka atta)
1/2 cup oat flour (see notes)
1/4 cup rice flour (chawal ka atta/ arisi maavu)
1/4 cup millet flour (bajra/ kambu )
1/4 cup finger millet flour (nachni/ ragi)
salt to taste
1/2 tsp cumin seeds
1/4 tsp turmeric powder (optional)
1/2 tsp red chili powder (or to taste) (can be substituted with cayenne powder)
pinch of asafoetida (hing/ perungayam) (optional)
3 tbsp finely chopped cilantro (coriander leaves/ kothamalli) (optional but recommended)
a little sesame oil to shallow fry the dosai/ crepes
In a large bowl add all the flours and mix well. Add all the spices except cilantro and mix well again.
Add water to make a batter of pouring consistency. When adding water, add a little at a time and err on the side of a thicker batter, if needed water can be added later to adjust consistency. Finally add cilantro and mix well.
The copyright of this content belongs to
Veginspirations.com
Allow this batter to "rest" for an hour or two. This step is important because as soon as the batter is ready if you try to make dosai with it, it tends to roll a little and comes out thicker and chewier, but after an hour or two, the dosai comes out thin and crispy.
Heat a flat pan/ griddle/ tawa on medium to medium high heat. Mix batter thoroughly again, as some settling can occur for this batter. When hot, pour a ladle of batter in the center and quickly spread into a circle. Spread very thin for a crispier dosai and a little thicker if you want a soft dosai. Add a few drops of oil around the circumference of the dosai. When the lower side is golden brown, flip over and cook the other side until it has small brown spots.
Remove from heat and serve hot with
chutney of choice
/
sambar of choice
or this
potato masala curry
The balance of the batter can be stored in the refrigerator and used up in two to three days. If you plan to make this for breakfast and do not want to wait for the batter to "rest" in the morning, you can make the batter a day ahead and stick it in the refrigerator too :)
Notes:
If you do not have oat flour, you can just powder quick cooking oats/ 1 min oats in the spice grinder/ mixer/ blender until you have fine powder and use it in this recipe