Weekend mornings have a typical pattern to them. Getting up a tad bit later than week days, hot tea with some news, long calls with family members and some kind of interesting breakfast :) The breakfast part varies largely on our mood, sometimes, it is something like
dosa
or poha or
sabudana khichdi
. And sometimes when I am in the mood for something with bread, I usually end up making either
this bread besan toast
or
this chili cheese toast
or have some baked beans with toast.
Recently I came across an idea in a Nita Mehta book for corn toasts that looked interesting. I thought R would love it since he likes sweet corn in pretty much everything :) So the following weekend I gave it a try and it turned out very well. Since then I have made this a few times and tweaked the recipe a bit more and this one turns out consistently well. If you are in the mood for something different this weekend, give this one a try and let me know what you think about it :)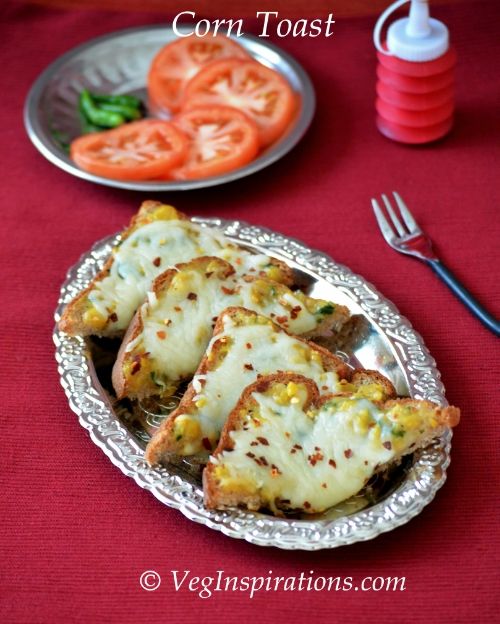 Click here for a printable view of this recipe
Ingredients
and Method to make Corn Toasts
1 can cream style corn (1 and 1/2 cups of cream style corn)
2 Thai or Indian style green chilies cut very fine (or to taste)
1 tbsp oil
Salt to taste (I used approx 1/2 tsp salt)
1/4 tsp black pepper powder (opt or to taste)
1/4 tsp red chili powder (opt or to taste)
3 tbsp finely chopped cilantro (coriander leaves/ hara dhania/kothamalli)
8 slices of bread (I used wheat bread but any kind would work) (see notes)
Shredded / grated cheese of choice as required ( see notes)
A small bit of butter
Heat oil in a medium sized heavy bottomed pan. Add green chilies and stir a few times. Then add cream style corn, salt to taste, pepper powder if using, chili powder if using and simmer for a few minutes until the cream style corn thickens a little. Add cilantro and mix well. Remove this mixture from heat.
Toast bread with a dot of butter on a flat pan/ tawa/ skillet until it turns slightly golden brown. You can also use a regular toaster for this, but I prefer the stove top method to make these toasts.
Pre heat oven to 425 deg F ( approx 220 Deg C) if you do not have an oven don't worry. I have described the stove top method below.
Pre line a tray with parchment paper or with aluminum foil. Place the toasted bread slices on the tray.
Place a little of the sweet corn mixture on each slice of bread and spread it evenly to cover the entire surface of the bread. Sprinkle a little bit of shredded/ grated cheese on each slice. Proceed for all the slices. Place tray in the oven and bake for 3 to 5 minutes or until the cheese melts.
Remove and serve hot with some ketchup.
If you do not have an oven........
Instead of placing each coated bread on a tray, heat a tawa/ flat pan/ skillet on medium low heat. Place one slice of bread with the corn cheese mixture side up on the tawa. Cover with a lid and cook on lowest setting for a few minutes or until the cheese melts. Remove gently with a spatula and serve hot. Proceed with all the bread slices in this manner.
Notes:

I've used shredded cheddar and shredded mozzarella cheeses while making this toast and liked both versions. Use whichever kind of cheese you prefer for this toast.
With this quantity of sweet corn mixture I was able to make 8 standard sized toasts. If the bread slices are very large or a very large amount of mixture is applied on each slice then you may get less number if toasts with this quantity of mixture.
You can easily double this recipe.