Spring has sprung and along with frequent showers, blooming flowers and warm weather it has also brought back my craving for salads. Throughout the cold months of fall and winter, I crave soups and hot curries, come spring and summer and I want much more salads.And salads that combine protein, some veggies and are filling enough to qualify as a one dish meal, are my favorite kind.

This quinoa bean salad definitely definitely qualifies. It is hearty, filling, nutritious, oil free, low fat and even packs well in the lunch box. Cannot ask for more from your salad :) This salad can be put together really quickly making it a great option for weeknight dinners. If you are looking for more ways to include quinoa in your diet, give this one a a try and as always would love to hear your opinions and ideas :)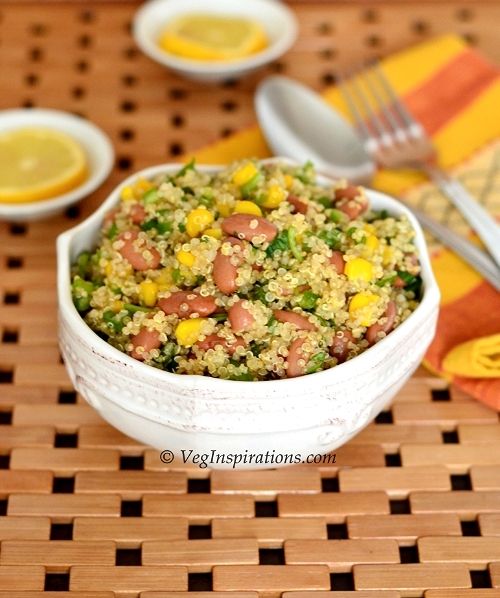 Click here for a printable view of this recipe
Ingredients and Method to make lemon quinoa bean salad
1 cup quinoa
1 cup corn
1 cup cooked pinto beans ( see notes for substitutions )
6 spring onions cut fine ( only the green part )
2 jalapeños cut fine ( or to taste )
Salt to taste
Handful cilantro cut fine
Juice of half a lemon (or to taste )
Rinse quinoa in cold water for a full minute. Place in large heavy bottomed pan, add 2 cups of water and place on medium heat. Cook until quinoa is cooked and soft. Fluff cooked quinoa with a fork and keep aside.
Cook corn in the microwave or the stove top with just enough water until soft. Keep the cooked corn aside. Make sure there is no water remaining in the cooked corn, if there is, drain the corn completely and keep aside to use in recipe.Allow quinoa, corn and beans to cool to room temperature. In a large bowl, mix together quinoa, corn and beans gently. Add salt to taste and mix again. Add spring onions and jalapeños and mix.
Notes:
If you do not want to soak and cook beans, you can substitute with canned beans. Just rinse the beans thoroughly in cold water, drain and use in recipe. Instead of pinto beans, red kidney beans /rajma or black beans can also be substituted in this recipe.
If you are looking for quinoa recipes here are a few more,