How would you like it if you could sleep and help yourself maintain a healthy weight or even lose a little weight because you slept, that would be really cool wouldn't it? If you think that is impossible, read on to know a little more about an interesting connection between sleep and weight loss that might surprise you.
Did you know that people who slept less than five hours gain more weight over time than those that sleep seven to eight hours . Studies have found that sleep deprivation causes the body to increase production of the hunger hormone causing us to crave more food during the day. Some studies also show that when we are deprived of sleep we tend to crave more fattening foods.So if you are among those that sleep less than five hours here is a good reason to sleep a little longer....you don't have to feel bad about missing those late night shows on television anymore...after all health comes first doesn't it ? :-) If you would like to read a more detailed article on this topic click here
Moving on here is a healthy and protein rich cutlet made with red kidney beans (rajma) that I made to use as a filling in sandwich made with my oat pav (bread). Try this for a healthier version to the regular all potato / bread cutlets, this one does not compromise on taste and it is quick and simple too.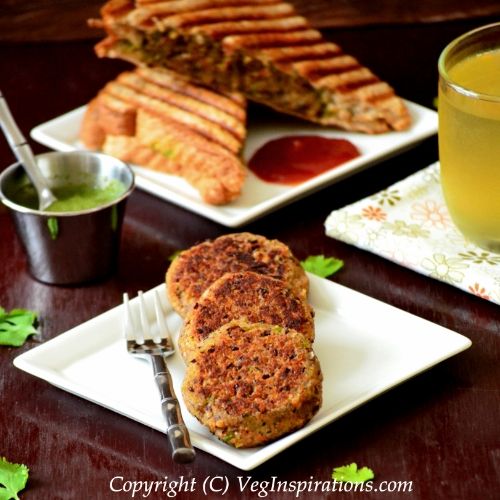 Ingredients and Method to make red kidney bean cutlets
1 cup red kidney beans soaked for about 8 hours with a pinch of soda (soda is optional)
2 cups mixed vegetables ( I have used any combination of green beans, corn, green peas, and carrot)
4 slices of day old bread (powdered in a spice grinder to a coarse mixture) (yielded approx 1 and 1/2 cups of bread crumbs)
1/4 to 1/2 cup fine semolina (semolina flour/ rava) (see notes)
1/2 tsp red chilli powder (optional) (or according to taste)
1/2 tsp garam masala (optional or to taste)
(my recipe for homemade garam masala can be found
here
)
3 Thai or Indian green chillies (or to taste)
1 inch piece ginger grated fine/ minced
a little extra oil to shallow fry the cutlets
Soak red kidney beans for about 8 hours or overnight with a pinch of soda (the soda is optional)
Drain red kidney beans and place in a pot with fresh water and simmer on a low heat until cooked. Alternatively drain red kidney beans and place in a pressure cooker with sufficient water and cook until soft. Drain any excess water after cooking the kidney beans and keep the beans aside.
Cook potatoes with skin either in the pressure cooker or stove top or microwave until soft and keep aside.
When the potatoes are cool, peel potatoes, mash them and keep aside.
In a heavy bottomed pan heat oil and add cumin seeds to it. When cumin seeds begin to sizzle, add green chilies and ginger and stir a couple of time. Add mixed vegetables, salt to taste, chilli powder, garam masala, sprinkle a few drops of water and cook on a low flame until the veggies are tender crisp.
Add mashed potatoes to the cooked vegetables and mix well.
Add cooked red kidney beans to this mixture and mix well. Using the back of you spatula or a potato masher, mash the mixture gently until most of the vegetables, beans and potatoes get mashed. Alternatively, cool all the vegetables, add to a food processor and process until the veggies all break down into coarse mixture.
Add bread crumbs to this mixture and mix well. Add semolina a little at a time, mixing well. At this point, the mixture will be thick and you should be able to form a patty/ cutlet with it.
The copyright of this content belongs to
Veginspirations.com
Cool slightly and form into lemon sized or orange sized balls,depending on how large a cutlet/ patty you want to make, and flatten it slightly.
Heat a flat pan/ griddle/ tawa on medium high, place the flattened cutlets on them and add a few drops of oil around the cutlets. Turn over and fry the other side similarly.
Serve hot with ketchup as a snack/ appetizer or use as a patty in your burger or in a sandwich
Yield will depend on the size of the cutlets.
Notes:
The quantity of semolina will depend on how moist the mixture is, too moist may need 1/2 cup, lightly moist may need just 1/4 cup or a little more. Add the semolina a little at a time assessing once or twice to see if you are able to form a patty/ cutlet with the mixture.