Few people can seem to resist the taste of paneer (Indian cottage Cheese). Frankly I have yet to come across anyone who dislikes or hates paneer. In addition to be universally well liked, paneer also tends to be very versatile and can be used in a variety of savory and sweet dishes.
Kadai paneer is a classic North Indian curry that can be seen on the menu of most Indian restaurants around the world. The taste of this curry defies the simplicity of its preparation. This curry is quick to make, uses mostly regular pantry items and tastes fantastic. You could just as easily use this curry as a filling for a sandwich or a wrap as use it as a side dish with Indian flat breads like naan or chappathis.
If you are looking for recipes with paneer, you can also check out ~
Paneer Masala
Paneer Bhurji
Another version of kadai paneer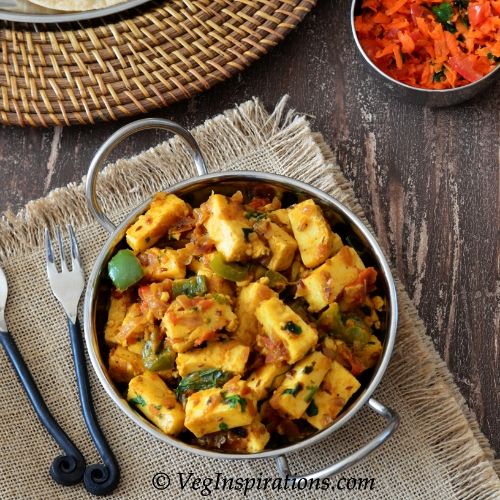 Click here for a printable view of this recipe
Ingredients and Method to make Kadhai Paneer
2 medium onions or 1 very large onion preferably red onions cut fine
2 medium bell peppers (capsicum/ koda molagai) deseeded and cut into 1/2 inch pieces
2 medium tomatoes blanched and cut fine
400 gms (14 oz) paneer (Indian cottage cheese) cut into 1/2 inch long pieces or cubes
My post on making paneer at home with stepwise pics can be found
here
1 tbsp oil/butter/ghee
1 tsp cumin seeds
1/4 tsp turmeric powder
3/4 tsp chilli powder (or to taste)
3/4 tsp garam masala (or to taste)
4 pinches kasuri methi (dried fenugreek leaves)
salt to taste
1/2 cup milk ( see notes)
handful cilantro (coriander leaves) for garnish
Blanch tomatoes, cut them into little pieces and keep aside. My post on blanching tomatoes with stepwise pictures can be found
here
Heat oil in a medium to large heavy bottomed pan. Add cumin seeds to it.
When cumin seeds splutter, add onions and saute until onions turn transparent.
Add blanched and cut tomatoes and saute until they start to become soft and mushy.
Add turmeric powder, chilli powder, garam masala and kasuri methi in quick succession and stir for a few seconds.
Add bell pepper, stir well and place the lid on the pan to allow bell pepper to soften a little (about a couple of minutes)
Turn down the heat to low to medium low. Add cubed paneer, salt to taste and milk.
Cover the pan with a lid and allow the paneer to cook on low heat until it softens. Remove lid and allow the paneer to cook until most of the milk is absorbed. Stir gently so that paneer holds its shape.
Remove from heat, garnish with finely cut cilantro and serve hot with Indian flat bread or naan or use in sandwiches or in wraps as a filling.
Serves approximately 2-3
Notes:
Its not absolutely essential to add milk, I've seen many versions without milk. Have even made it a few times myself without milk :) , but I find that adding a little milk makes the paneer a little more softer with a better texture that I enjoy, especially when I use store bought paneer.