For some odd reason I was under the impression that I have already posted the recipe for this easy mung curry in this space. The other day when I was searching for it here, I realized somehow this recipe had missed making it into this space earlier. It surprised me, mainly because this curry features frequently in my home, but since I was under the impression that I had already posted this curry, I never bothered with pictures etc for it :) Well you know how they say, better late than never........... :)
This curry is what I categorize as an everyday curry. Its a no fuss, easy and quick curry that is perfect when paired with any kind of Indian flat bread , whether it is rotis, phulkas or chapathis. In a pinch you can even have this curry with some kind of crusty bread like french bread/ ciabatta rolls/ or the more
Indian pav
on the side. Yet despite its simplicity this curry is delicious, very flavorful and has this lovely creamy texture that I just love. Also the fact that it uses very minimal ingredients means that it does not need very much in terms of planning ahead, which is great for people like me who do not plan their menu days or weeks in advance :) If you like mung bean, this simple curry may be just the thing for your quick weekday menu:)
Before I go a couple of updates......I have recently updated my
Easy Kadai Paneer
post with updated pictures + stepwise pictures. I have also updated this
oat sabudana dosa (Oat Javarsi dosai/ Savory Indian crepes made with oats and sago)
with updated pictures
and my very first video clip
of the process of making the dosa. Take a peek at these posts and let me know what you think :)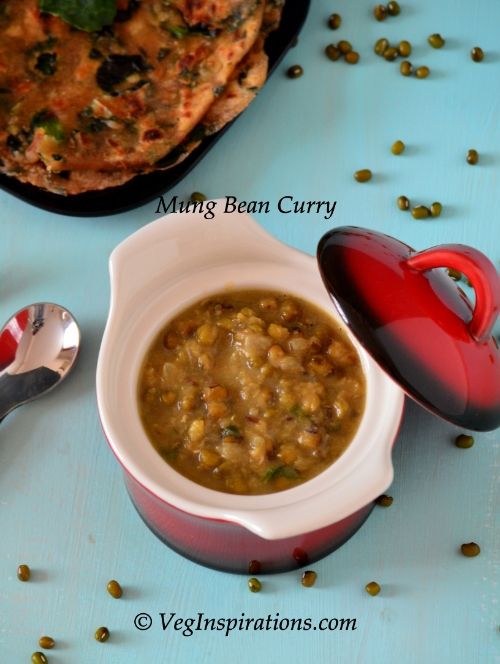 Click here for a printable view of this recipe
Ingredients and Method to make Mung Bean Curry
1 and 1/4 cup whole mung beans soaked in water for 5 to 6 hours or overnight
1 large red onion cut fine
1 Thai or Indian variety green chili cut fine (or to taste)
1 tbsp oil ( I used coconut oil)
1/4 tsp turmeric powder (haldi/ manjal podi)
1/4 tsp cumin powder (Jeera powder)
3/4 tsp coriander powder (Dhania powder)
1/2 tsp red chili powder (or to taste) (can be substituted with cayenne powder)
1/4 tsp garam masala (or any other curry powder) To make your own garam masala check out
this post
2 to 3 tbsp finely cut cilantro leaves (coriander leaves/ hara dhania/ kothamalli)
1/4 cup whisked plain yogurt (curds/ dahi/ thayir)
Heat oil in a large heavy bottomed pan, when hot add cumin seeds, when the seeds sizzle, add green chili and stir a few times. Add onions and saute until onions turn transparent.
Drain the soaked mung beans and add to the sauteed onions. Add spices except salt, water enough to submerge the beans, stir well and close with a lid and allow the beans to cook until soft.
Add salt to taste, water if required to achieve desired consistency and simmer for another few minutes for the flavors to mingle. I always add salt when the beans are almost cooked as I have heard that adding salt earlier inhibits the cooking process of beans and makes it a little hard. When done, add whisked plain yogurt and mix well.
The copyright of this content belongs to
Veginspirations.com
Finally remove from heat, garnish with some cilantro and serve hot with some Indian flat bread like rotis/ phulkas/ chapathis etc.