For a while now I have been wanting to make payasam/ kheer with oats in it. A few weeks back when I wanted to make some neivedyam, I thought maybe this would be a good time to try oats payasam. Usually I tend to make
burfis
or
ladoos
for neivedyam, but this time I decided to go with payasam instead. On a whim I made the payasam with oats and aval (poha) in it, instead of just oats and the result was this incredibly easy, yet rich and creamy tasty payasam that we really liked.
You cannot really tell this payasam has oats in it. I have already shared this payasam with some of my friends and relatives, and so far no one could guess that this payasam has something so healthy in it :) This payasam is also very quick to make, the oats and poha thicken it right up, so you do not have to wait very long for the milk to thicken as you have to with a lot of other payasam recipes. If you are looking for a way to indulge your sweet tooth, give this recipe a try and enjoy it with your family :)
Click here for a printable view of this recipe
Ingredients and Method to make aval oats payasam
3 cups whole milk ( doodh/paal)
3/4 cup sugar ( shakkar/cheeni/ sakkarai)
1/4 cup quick oats
1/4 cup beaten rice flakes ( medium poha/ aval )
1 Tbsp broken cashew pieces (kaju)
3-6 tsp of clarified butter ( ghee/ nei)
4 to 5 green cardamom seeds powder ( elaichi powder/ ellakkai podi)
In a heavy bottomed pan, roast quick oats in 1 to 2 tsp of clarified butter/ ghee on medium heat until it turns creamy. Remove and keep aside to cool.
In the same pan, roast beaten rice flakes/ poha in 1 to 2 tsp of clarified butter / ghee on medium heat until it turns creamy. Remove and keep aside to cool. Powder both rice flakes and oats together in a mixer/ blender/ spice grinder until it has a coarse semolina/ rava like texture.
In the same pan, heat 1 to 2 tsp of clarified butter/ ghee and roast cashew until it turns golden brown. Remove and keep aside.
Place the powdered rice flakes + oat powder in the pan, add about 1 cup of water and cook until the mixture cooks and thickens, this does not take much time, just a couple of minutes or so. When the mixture thickens, add sugar and continue to heat until sugar melts.


Add milk and heat through, stirring frequently and allow the milk to simmer for 4 to 5 minutes. Garnish with cardamom powder and the roasted cashew from above, mix well and remove from heat.
This kheer can be served hot, at room temperature or cold. Any balance can be refrigerated for a couple of days.
Serves approx 3 to 4
Notes:
The kheer thickens when it cools, so do keep that in mind when you are simmering the milk. If you simmer it longer it will result in more rabri ( thick custard) type consistency.
If you enjoyed this post, you might also like some of these other kheer/ payasam/ Indian pudding recipes: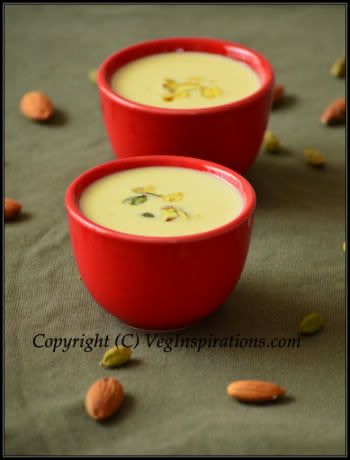 Badam Kheer ~ Payasam ~ Indian almond pudding

Paal payasam ~ Kheer ~ Indian rice pudding

Quinoa Kaju Kheer ~ Payasam ~ Pudding with quinoa and cashewnuts

Carrot Cashew Payasam ~ Gajar Kaju Kheer ~ Indian carrot and cashew pudding