Adzuki beans pronounced as "azuki" beans are also known as red chori or red cow peas. According to wiki these beans are widely grown throughout East Asia and the Himalayas. These beans when cooked have a sweet and nutty flavor and like other beans are a good source of soluble fiber. Also these beans are said to be a good source of folate, potassium, phosphorous, magnesium, iron and zinc. If all the above health benefits does not make you want to put these beans on your next grocery shopping list, here is another...............these beans taste awesome in curries.
I have been experimenting with these beans in different curries for a while now. Some of the recipes almost made it into this site too, sadly I missed taking pictures of the curries and couldn't post them here........ sigh ! Anyway this time I managed to snag a few pictures of this curry. Though the pictures did not turn out too well and do not do justice to this curry, at least it kind of gives you an idea of how the curry looks. The taste of this curry was definitely far better than the picture seems to suggest, you will just have to take my word on that :-) Or better still give this curry a try yourself, it is versatile enough to be paired with just about anything, plain steamed rice, any type of Indian flat bread like
phulkas, rotis or naans
or even breads like dinner rolls,
pav
or ciabatta!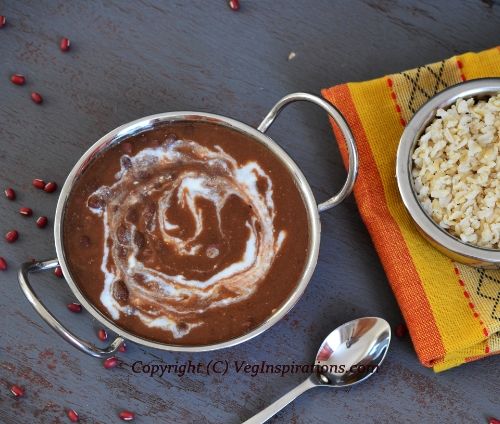 Click here for a printable view of this recipe
Ingredients and Method to make Adzuki bean curry
1 1/4 cup adzuki beans (red chori / red cowpeas) soaked in sufficient water for 6 to 8 hours with a pinch of soda (soda is optional)
2 small onions cut fine
2 medium tomatoes cut fine
2 tbsp oil
1 inch piece of ginger minced
1/2 tsp minced garlic
4 Thai or Indian variety green chilies (or to taste)
1/4 tsp turmeric powder
1 tsp
garam masala
(or to taste) (can be substituted with any other curry powder)
Check
this post
for the recipe of homemade garam masala
salt to taste
1/4 cup whisked yogurt (optional) (can be skipped for a vegan version, see notes)
handful of cilantro (coriander leaves/ kothamalli) cut very fine
Soak adzuki beans
for 6 to 8 hours in sufficient water. I usually add a pinch of soda to this while soaking because I feel the beans tend to be softer, but the soda can be skipped. Drain the water the beans were soaked in, fill with fresh water and pressure cook until the beans are soft but not mushy. Alternatively the beans can be cooked on the stove top until it is soft yet not mushy.
In a large heavy bottomed pan, heat oil. When hot add onions and saute until onions are transparent. Add minced ginger and garlic and stir a few times. Add tomatoes and stir until tomatoes soften and become mushy.
Add green chilies and stir a couple of times.
The copyright of this content belongs to
Veginspirations.com
Remove this mixture from heat and allow to cool. Puree the onion + tomato mixture until smooth. Pour the pureed mixture back into the pan. Add turmeric powder, garam masala and the pre cooked adzuki beans.
Add salt to taste and allow the adzuki beans to simmer in this gravy for about 10 to 15 minutes. Do not skip this step as the flavors get infused into the adzuki beans while it simmers, and the resulting curry is that much more flavorful.
Finally remove from heat and just before serving add whisked yogurt if using and garnish with cilantro.
Serve hot with any type of Indian flat bread like naan/ tandoori roti, phulkas/ rotis or even breads like
pav
/ dinner rolls/ ciabatta bread.
Serves approximately 2 to 3
Notes:
Pureeing onion and tomatoes is not necessary, but pureeing it results in a smoother gravy. This step can be skipped if you are not particular about a smoother gravy. Only thing, if you plan to skip this step make sure the vegetables and chilies are cut very fine.
Adding yogurt is optional, this curry tastes pretty good even without it. I just add it to add a touch of creaminess. If you want to make a vegan version of this curry, you can just skip the yogurt completely.