First the kitchen art :)
I have a narrow wall in my kitchen that needed something to pretty it up a little. I had been searching for something appropriate but most of the art I came across, either did not fit the space or looked generic. Last week I came across
this idea
and
this idea
for wall art that really appealed to me. Loved the simplicity of the idea and the use of silverware in the art pieces, made me think that it might a great fit for my kitchen space.
Since there is no way to know than to try it out, I did !! This is the first time I have seen an idea and tried it out within a week. Usually my home decor projects take much longer than that. Anyway it did not take too long to get the art work ready, it actually took longer to finalize on the frames and the fabric I would use. I decided not to spray paint the silverware and the frames, thought their original colors would work better for my space. Hung the frames as soon as I completed it and took pictures too, this is how it looks in my kitchen :) We definitely love it and every time I enter the kitchen now, my eyes are automatically drawn to that wall and I keep turning to look at it even while I am cooking :)
Moving on, I use red swiss chard frequently, mostly in curries, occasionally in
this adai
and sometimes in
this roti
. This time I decided to use it in a soup. I based my soup roughly on
this recipe
and tweaked it to bit by adding Indian spices and finished it with some lemon juice for a hint of tartness. The soup turned out well, the addition of lentils and chickpeas makes this very filling and it works well as a one dish meal with some bread on the side. We thoroughly enjoyed it and I am happy to have one more recipe that I can regularly make that uses red swiss chard :) Okay this has been one long post, so I am going to end it now. Enjoy your weekend everyone and I will see you all in this space next week :)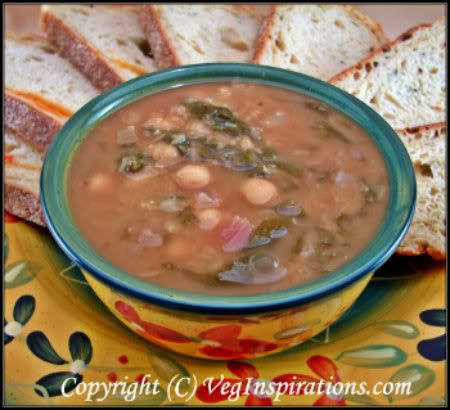 Click here for a printable view of this recipe
Ingredients and Method to make Red Swiss chard and Chickpeas soup
1 cup dry chickpeas soaked for 6 to 8 hours in sufficient water with a pinch of soda (soda optional)
1 1/2 cup split red lentils (masoor dhal)
1 large bunch red swiss chard cut finely (remove tough stalks)
1 large red onion cut fine
2 Thai or Indian variety green chilies cut fine
1 to 2 tbsp olive oil
salt to taste
1/2 tsp red chili powder (or to taste/ can be substituted with cayenne )
1 tsp garam masala (or to taste/ can be substituted with any other curry powder)
Water or Vegetable stock as needed ( I used approx 4 cups)
Juice of 2 small lemons ( or to taste)
Drain soaked chickpeas
, fill with fresh water and cook either in the pressure cooker or stove top until soft.(I used the pressure cooker)
Rinse split red lentils and keep aside.
In a large heavy bottomed pan heat oil. When hot add onions and stir until the onions are transparent. Add green chilies and stir a couple of times. Add rinsed lentils and water/ stock and allow the lentils to simmer until it is half cooked.
The copyright of this content belongs to
Veginspirations.com
Add chopped red swiss chard, salt to taste, chili powder, garam masala, adjust water/ stock as required and let it simmer until the chard and lentils are both cooked. Add cooked chickpeas and simmer for a few minutes until the flavors mingle.
Remove from heat, add lemon juice and mix well.
Serve with bread of choice ( I served this with some jalapeno bread )