Have you heard about chia seeds ? Until a couple of months back , the only time I heard anything about chia seeds was during the chia pet commercial that played often during the holidays. Never ever gave it a thought and definitely never thought of it as something edible let alone as something nutritious. So I was utterly surprised when my cousin Sandhya who always shares healthy tips with me, mentioned that they had begun to use chia seeds. She said that chia seeds were a kind of super food and a great source of omega-3.
Never one to miss out on a chance to include more healthy ingredients in our diet, I started looking up chia seeds online. From various sources, here is what I learned about these seeds. Chia seeds are said to have originated in south America and was a staple in the diets of ancient Mayans and Aztecs. Like flax seeds, chia seeds also have high levels of omega-3 fatty acids along with protein, fiber and anti oxidants. When it comes to omega-3, 2 tablespoons of chia seeds has more than 4000mg of omega, whereas 2 tablespoons of flax has about 2700 mg of it. And 2 tablespoons of chia seeds has 6.9 grams of fiber vs 4 grams of fiber in flax for the same quantity. Chia seeds also are a good source of calcium, phosphorous and manganese. It is also said to be good for stabilizing blood sugar because it slows down the rate at which carbs are assimilated by the body. It is also said to have anti inflammatory properties, helps boost metabolism and is said to aid in weight management.
Now that I know that chia seeds are such a powerhouse of nutrients, I have been trying to get some chia seeds in our diet regularly. Since chia seeds do not have a very pronounced taste, it is easy to include chia seeds in our diet by simply sprinkling some on cereal or salads. But I have also used it in breads and Indian flat breads. I especially love chia seeds in this version of roti. It tastes so, so good. The seeds add a touch of crunch to the roti that makes the roti so very interesting. So if you are in the mood for trying something new and have a packet of chia seeds in your pantry this might be something that interests you, give it a try and tell me what you think :)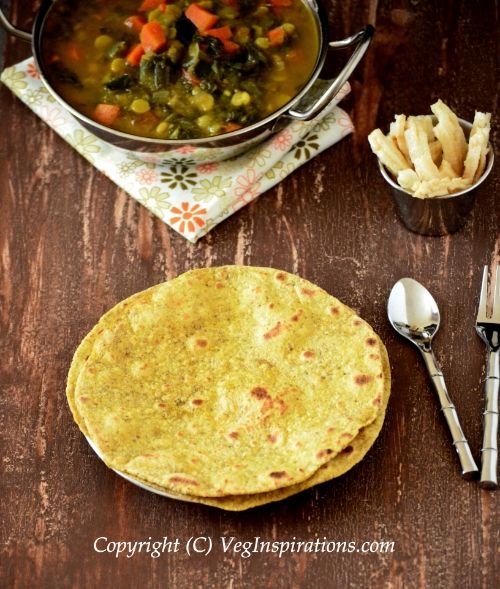 Here is a pic of the chia seeds...................
Click here for a printable view of this recipe
Ingredients and Method to make Chia seeds Roti
2 cups whole wheat flour (atta/ godumai maavu)
3 tbsp whole chia seeds soaked in 1/2 cup of water for about 30 mins (can be substituted with milled chia seed/ chia seed powder, see notes)
salt to taste
1/4 tsp turmeric powder
1/2 tsp red chili powder
1/2 tsp cumin powder
1/2 tsp garam masala (or to taste / can be substituted with any other curry powder)
water as needed
1 tsp oil
a little extra flour for dusting
a few drops of oil/ clarified butter (ghee/nei) (optional) (use oil for a vegan version)
Soak
chia seeds in approx 1/2 cup of water for 30 mins or so. Mix once halfway to ensure even soaking, the chia seeds become gelatinous and kind of thick.
In a large bowl, assemble all the dry ingredients and mix well. Add the soaked chia seeds along with the water and mix into the flour. Add water as needed to knead into a soft and non sticky dough, add 1 tsp oil and knead again.
The copyright of this content belongs to
Veginspirations.com
Keep dough covered and allow it to "rest" for at least thirty minutes
Divide dough into equal lemon sized balls. Using a little flour for dusting roll the dough into an even circle of desired thickness.
Heat a flat pan/ griddle/ tawa on medium heat. When hot place rolled out dough on it and allow it to cook until light brown spots appear on the lower side. Flip over and cook the other side until light brown spots appear on it.
If you plan to use clarified butter/ ghee/ oil, it can be applied to the side facing upwards after flipping the roti and flip back again for the other side to cook for another few seconds. Using oil/ ghee is not required at all, since this roti is pretty soft as it is, especially if served immediately after making.
Remove and serve hot with
curry of choice
/
dhal of choice
Notes:
You can also used milled chia seeds / chia seed powder for this recipe. If you do, then just mix the powder into the flour along with the spices, then add water and knead into a soft non sticky dough. Proceed with the rest of the recipe as mentioned above. I've used both and notice that when using ground chia seeds, it blends in better and the roti tastes more conventional, whereas when using the whole chia seeds it adds a light crunch to the roti that I personally like but which definitely cannot be described as conventional :)
If you are looking for roti varieties, here are a few more