If you ever had nutella you know it can be very addicting. Everyone in my family loves it, I mean what's not to love, after all it's got chocolate and hazelnut in it. Yum :) I have seen nutella being used in bakes like muffins and breads, but have never seen it being used in ice cream. That is of course, until the other day when I was browsing through pinterest and came across a picture of nutella ice cream. The picture led me to
this recipe
. Now here's the thing that really appealed to me about this ice cream, it has
only
two ingredients. Seriously I am not kidding you, this recipe does not call for cream or eggs like other ice cream recipes do, it just needs evaporated milk and nutella. Can it get simpler than this ? I don't think so :)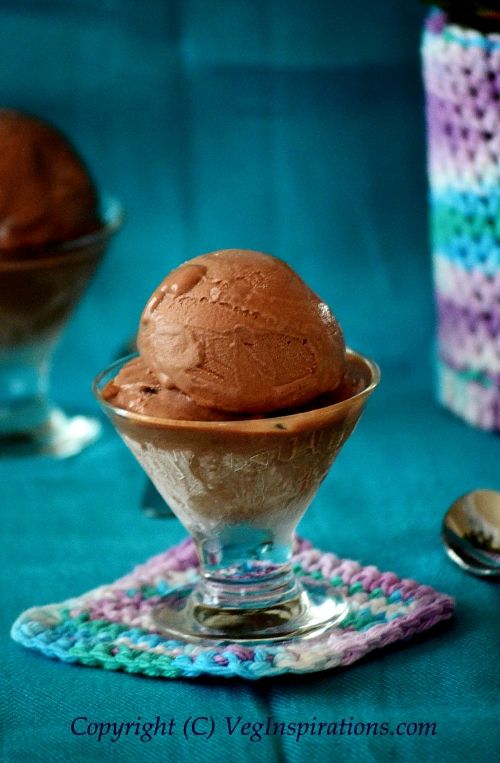 Anyway I bookmarked the recipe and tried it as soon as I could. I tweaked the recipe slightly and reduced the amount of nutella used in it. I was a little worried about texture and softness of the ice cream, but I needn't have worried. The ice cream was absolutely decadent, it had just the perfect texture and creaminess. It was also one of the simplest things ever, it hardly takes any effort. Just measure, mix, chill and churn in the ice cream maker :) My picture below does not do justice to it, I was in a hurry to take the pictures before the entire thing melted and couldn't get the best picture. Even with the rushing you can see the ice cream is beginning to melt. Maybe I will upload a better picture the next time I make this, after all good pictures are so important......well that plus the fact that I am so ready to use just about any excuse to make this one more time, it was that good :)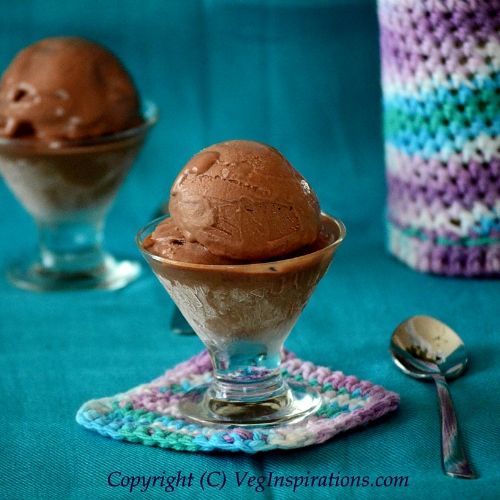 Click here for a printable view of this recipe
Ingredients and Method to make nutella ice cream
1 3/4 cup evaporated milk (unsweetened)
1 1/4 cup nutella
Mix the two
ingredients together. Use a hand blender to make this faster and simpler. If you do not have one a whisk will work too, just a little slower.
Chill the mixture in the refrigerator for a few hours.
Place in the ice cream maker and churn until done. It took me about 30 minutes, at that point I got a soft serve consistency.
The copyright of this content belongs to
Veginspirations.com
Remove, store the ice cream in an air tight freezable tub/ container, place in the freezer and enjoy whenever you want :)
If you do not have an ice cream maker than place the mixture in the freezer. When it begins to freeze around the edges, remove and stir it vigorously with a whisk or spatula. Return to freezer and continue this process every 30 or so minutes, stirring at least five to six times. Allow it to freeze and serve. If you want more details on this process check out
this post