Strawberries are in season right now, and every time I go grocery shopping, these plump and pretty berries look so tempting that I cannot resist adding a box ...... or two into my cart. The idea of making ice cream with these berries has been on my mind for a while and since I got quite a lot of berries recently I decided to make a batch of ice cream sooner rather than later :-)
Unlike
the previous version of strawberry ice cream
that I had posted in this space, this time I made the ice cream with cream and sweetened condensed milk, somewhat similar to
this mango ice cream
I posted a few weeks back. In my opinion, home made ice cream, especially fruit based ones taste so much fresher and more genuine than store bought versions. You can actually taste the fruit, not all the artificial flavors that get added in the store versions. Not to mention most store versions also include a list of unpronounceable other stuff that just makes me cringe and put back the container as soon I read the ingredients. If you feel the same way try this easy version of strawberry ice cream, it's the perfect treat for any weekend :)
Click here for a printable view of this recipe
Ingredients and Method to make Strawberry ice cream
2 cups- strawberry pieces cut into 1/4 inch pieces
1 and 1/4 cup of sweetened condensed milk
1 cup heavy cream
1/4 cup sugar (see notes)
Blend together fruit pieces with condensed milk in a blender/ mixer until it becomes a smooth puree. Add heavy cream and blend again.
Pour into a glass or any freezable container and place in freezer.
In about an hour and a half when the edges begin to freeze, take out the mixture and whip it in the blender again until soft. Pour back into container and place in the freezer. Allow to freeze.
Scoop, serve and enjoy :)
Notes:
With this quantity of sugar I got a mildly sweet ice cream, if you want a more pronounced sweetness, you can increase the quantity of sugar to 1/2 cup.
I have seen some instructions for ice creams to be taken out and whipped 2 to 3 times every 1 1/2 to 2 hours then allowed to freeze, but with these proportions it set beautifully and I did not need to whip it so often. If you like, you could do it more times too.
If you liked this post, you might also like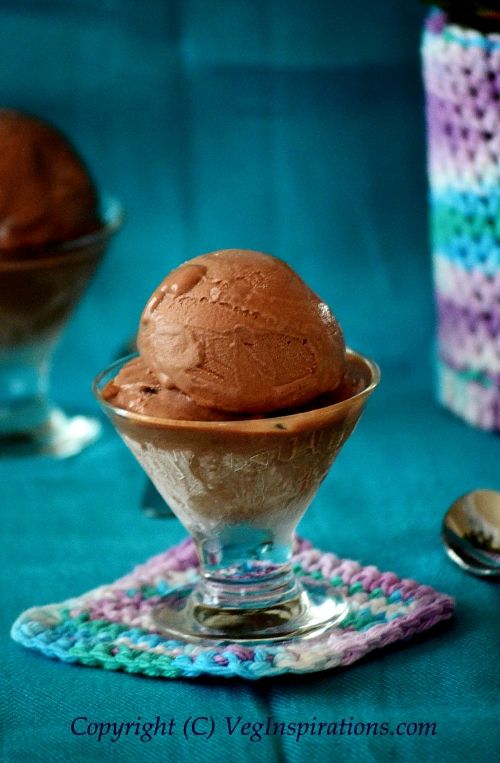 Simple 2 Ingredient Nutella Ice Cream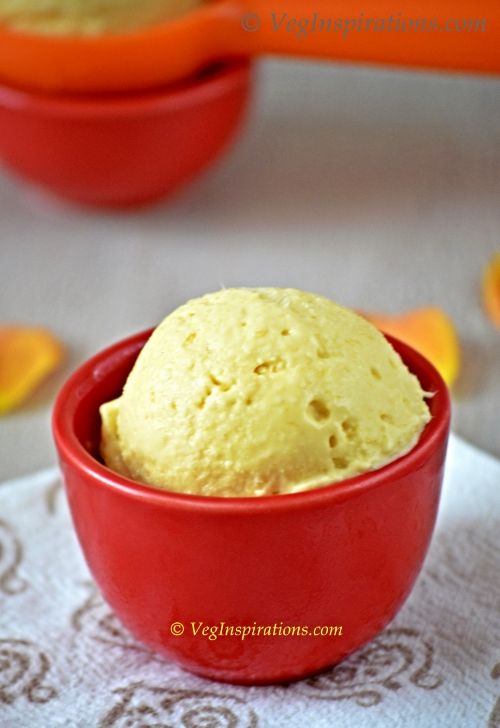 Mango Ice Cream ~ Egg Free ~ No Ice cream maker needed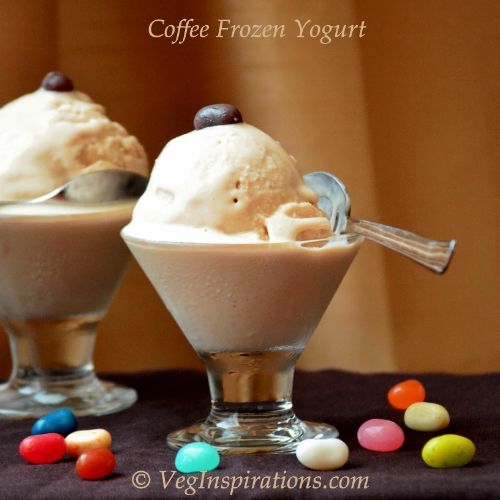 Coffee Frozen Yogurt