For the longest time I have been wanting to try oven roasting some beans, I always wanted to try first with either chickpeas or mung beans, since both these beans are my favorites and I think a crunchy snack with either of them would taste pretty good. A few weeks back when I was planning to make
this chana masala
, I decided to keep some cooked chickpeas aside specifically for this "experiment". It is so simple that I am not even sure this qualifies as a recipe, but the results are thoroughly enjoyable, we definitely loved it.
In fact, R who usually tends to favor fried crunchy snacks loved this so much, he even extracted a promise from me that I would make this again and soon :) The best part about this snack, not only is it low fat and crunchy, it is also a really neat way to get some fiber ....cannot ask for more from a snack :) So the next time you are wondering what to make for the weekend movie, here's an idea you might want to consider. It won't make you feel too guilty for indulging the next day :)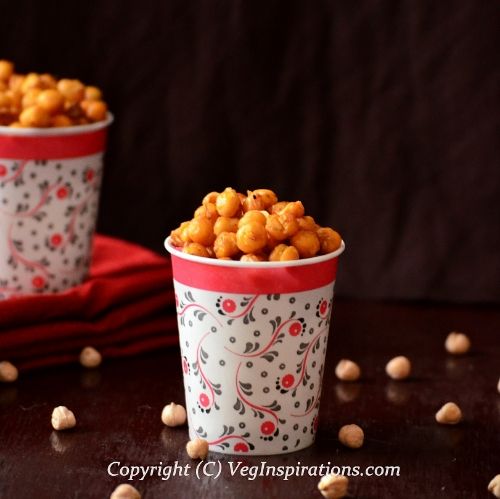 Click here for a printable version of this recipe
Ingredients and Method to make crunchy roasted chickpeas
1 1/4 cup cooked chickpeas rinsed, drained and patted dry
1/2 tsp salt (or to taste)
1/8 tsp red chili powder (or to taste) (optional)
1/4 tsp garam masala (or to taste) (can be substituted with any other curry powder)
1 tbsp olive oil
Spread the cooked and drained chickpeas
on a kitchen tissue for a little while ( I usually keep it for about 15 minutes or so). When most of the moisture has been absorbed by the tissue, use another dry one to pat dry the beans before transferring them to a small bowl.
Pre heat oven to 400 deg F . Line a tray with aluminum foil or parchment paper and keep aside.
In another small bowl add oil and all the spices and mix well.
Pour the oil + spices on the cooked and dried chickpeas and mix well making sure that each chickpea is coated with a little oil + spice mixture.
Spread the chickpeas on the pre lined tray evenly and place in oven and bake for 30 to 35 minutes or until it turns golden and a little crunchy.
Cool to room temperature and enjoy this snack :)
Store the balance of the cooled roasted chickpeas in an air tight container and use within a few days.....if it lasts that long :)