I tasted this Mediterranean salad at a restaurant for the first time and immediately thought it would be a great addition to the usual salads I make at home. Other than the taste what I like about this salad is that I get to include both vegetables and protein in one salad which is always a plus since we are vegetarians and protein is the one thing I feel can easily be overlooked in our diet.
Another thing I like about this salad is that it is very simple to make and can be made ahead of time.... actually needs to be made ahead of time to provide time to chill making it a good salad to include in the menu when entertaining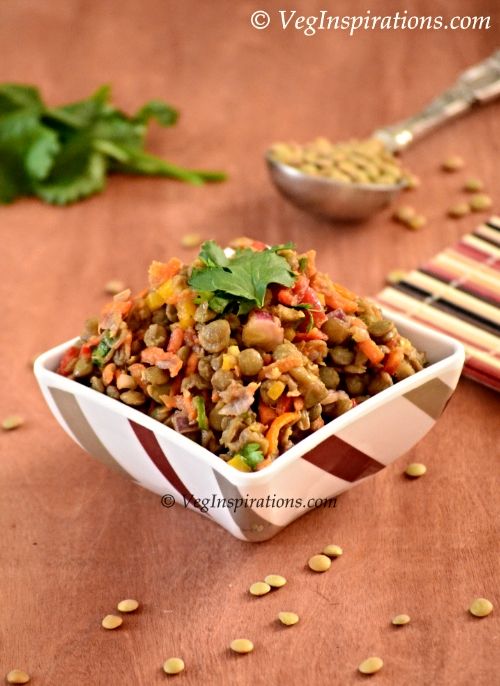 Click here for a printable view of this recipe
Ingredients and method to make the Mediterranean salad.
1 cup dry lentils (saboot masoor dhal)
1/2 of a large onion or 1 small onion (cut very fine) (see notes) (pyaaz)
2 medium tomatoes (cut very fine) (tamatar) (optional)
1 bell pepper de-seeded and cut fine (capsicum/ simla mirch) (can be substituted with 6 to 8 mini peppers)
1 large carrot grated (gajar)
3 small green chillies (cut very fine)(or according to taste) (hari mirch)
3 tsp extra virgin olive oil
3 tsp lemon juice (or to taste) (nimbu)
salt to taste(namak)
3 Tbsp finely chopped cilantro (coriander leaves/ hara dhania)
Wash the dry lentils and drain.
Cook lentils in little water (I used about 1 1/2 cups) on medium heat until the lentils are cooked and the water has evaporated.Take care that the lentils are separate and not mushy. Alternatively these lentils can be cooked in a microwave safe dish in the microwave too. It cooks pretty fast and the lentils retain their shape well this way. Keep cooked lentils aside until completely cool
Mix together chopped onion,tomatoes,grated carrot and salt and keep aside.
Heat olive oil and add the chopped green chillies to it and saute until the chillies start turning brownish.Pour the oil with the green chillies on the mixed vegetables.
Once the lentils are completely cool add the mixed vegetables to it, salt to taste and lemon juice to it and mix well.
Finally add the cilantro for garnish and refrigerate this entire salad for about 3 to 4 hours before serving.
Always serve this salad cold.Serve this salad with
soup
of choice
Serves about 3-4.
Notes:
This salad tastes best when made with extra virgin olive oil.
Do not mix the vegetables with the lentils if the lentils are warm since they are more difficult to handle then and tend to break.
The onions can be omitted and the salad can be made without it too
In case you are not using green chillies in the salad just mix the olive oil and lemon together and pour on the salad,no need to heat the olive oil.
If you are looking for salad recipes, here are a few more