Adai, a savory crepe made with rice and lentils originates from southern Indian cuisine. Traditionally adai is made of rice and three to four different lentils, you can find the traditional recipe for adai
here
.Unlike the traditional dosai, adai batter has the benefit of not needing to be fermented, making it quicker to make. In addition the spices and lentils lend a wonderful flavor to this crepe making it delicious without any additional side dishes or chutneys if you want to have it that way :-)
In the past I have made
adai with oats and barley
, but for quite a while now I have not experimented further with this crepe. Recently when I planned to make adai, I thought it would be nice to see how
quinoa
works in adai. This adai turned out soft and delicious and the lentils, quinoa and oats give this adai a great flavor and texture.If someone in your family does not care for the taste of quinoa then this is a great way to sneak it in as the quinoa does not have a very pronounced taste in this dish.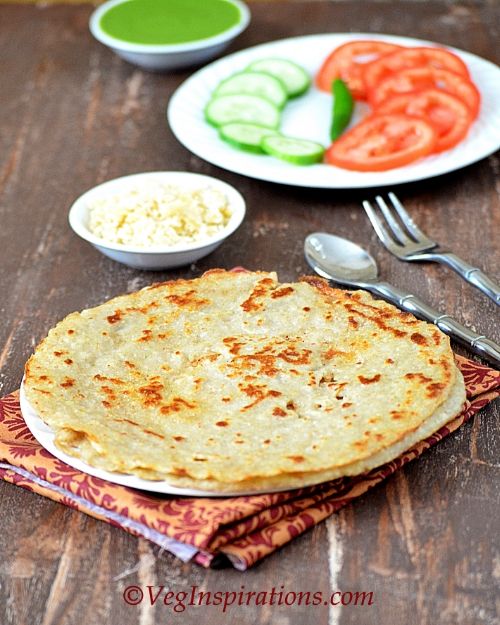 Click here for a printable view of this recipe
Ingredients and Method to make Quinoa Oat Adai
1 cup brown rice (or white rice) (chawal/ pachai arisi)
1/3 cup split pigeon peas (tur dhal/ tuvaram parappu)
1/3 cup yellow mung lentils (yellow moong dhal/ mung dhal/ pasi parappu)
1 cup rolled oats
1/2 cup quinoa (see notes)
soak together for two to three hours
5 dry red chilies (or to taste) (lal mirch/ molaga vathal)
4 Thai or Indian variety green chilies (or to taste) (hari mirch/ pachai molagai)
ginger 1 inch piece (adrak/ inji)
salt to taste (namak/ uppu)
1/8 tsp asafoetida (hing) (optional but recomended)
a few tsp of sesame oil to shallow fry the adai
In a large bowl, mix all the grains well. Fill with water, swirl with your hand a couple of times and drain water.
Fill the bowl with enough water of about an inch above the grains and let the grains soak for about 2 to 3 hours.
The copyright of this content belongs to Veginspirations.com
Drain the grains, and grind along with red chilies, green chilies and ginger in batches using a blender. Use water as required while grinding. The batter should be of pouring consistency but not too runny, a little on the thicker side.
Traditionally lentils for the adai batter are ground very coarsely and you can see some of the lentils visible in the batter, that is supposed to be part of the appeal of adai. But I prefer my adai a little softer and smoother so I grind adai batter a little like dosa batter only slightly thicker and very slightly coarser. When I take a little batter between my thumb and finger, the grains feel a little like semolina / rava. Having the grains ground to a semolina/ rava like texture gives you a crisper adai/ dosai , smooth texture gives you softer adai.
When the batter is ready, add salt and asafoetida and mix well.
Heat a flat pan/ griddle/ tawa and when hot, pour a small quantity of batter in the center and quickly spread in a thin circle. Add a few drops of sesame oil on top and around the batter.
Let the adai cook, until the lower portion begins to brown to a goldenish color, then flip the adai and cook the other side. Remove when the other side begins to get a few pinkish/ brownish spots on it.
Serve hot with
chutney of choice
or
molaga podi
or jaggery. Remaining batter can be stored in the refrigerator and used within the next 2 to 3 days.
Yields approximately 16 to 17 adai
If you want to see a pic of the consistency of the batter and a video clip of how it is made, please check out
this post
. It is not of this same adai/ dosai but the texture and consistency of the batter should be the same and the process of making it is the same too :)
Notes
If quinoa is not available, you can increase either or both the lentils to make up the difference, that is use 1/2 cup more of 1 lentil (dhal/ parappu) or increase both by 1/4 cup each.
If you are looking for Quinoa recipes, here are a few more